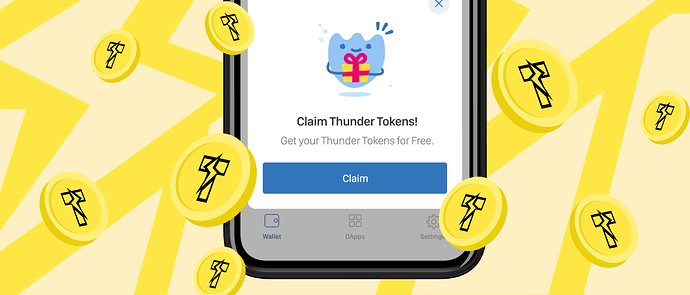 Thunder Protocol is doing a special promotion for all Trust Wallet users. The First 2000 Trust Wallet users will get to claim 50 Thunder Token straight from within their Wallet. Should you be too late to claim your 50 TT, you will still be able to claim 5 TT after the promotion is over. To claim your Tokens, simply download Trust Wallet and open Thunder Token from inside your Wallet. Congratulations !! Your free Thunder Tokens will be on their way.
"We are very excited as Trust Wallet supports 17 blockchains and is very selective about which projects they choose to integrate into their wallet," said Chris Wang, co-founder and CEO of ThunderCore. "They're not just a wallet - they also provide users access to hundreds of dApps via its Web3 browser. We are looking forward to this promotion with Trust Wallet and plan to give users access to hundreds of dApps, which will eventually be built on the ThunderCore blockchain network."
About ThunderCore
ThunderCore is its own blockchain with its own native cryptocurrency. Developed by industry-leading experts, it is EVM-compatible with throughput of 1,200+ TPS, sub-second confirmation times, and low gas costs—making it quick and easy for DApps to deploy and scale.