Я перешёл по реферальной ссылке. Зарегистрировался. Потом снова перешёл по реферальной ссылке, нажал подтвердить код. И ничего не получил((( Почему???
Hello @mthaza222,
We need the following information to verify it manually:
Receiving address of the purchased crypto
The BNB address and referral link of the inviter.
The team will review your case, it might take some time
Yes i just got a friend to join he downloaded the app via app store .so i told him to uninstall and reinstall via my link.
he just downloaded the app and just bought $150 BNB so we can get our 50 twt
but he is not show up on my invite. also i sent my link again to him. and his said something like, "unable to send first time refferal code" (He just downloaded Trust Wallet today!)

His- link> https://share.trustwallet.com/d/82yaHFFgvab
His-BNB address> bnb1llm7d6nt5gmq36s99makdrdd0g6ujsj97yfe
His-Simplex Order # number > 6e5dec07-41ab-4671-b81a-27d4bd234594
The Receipt of payment>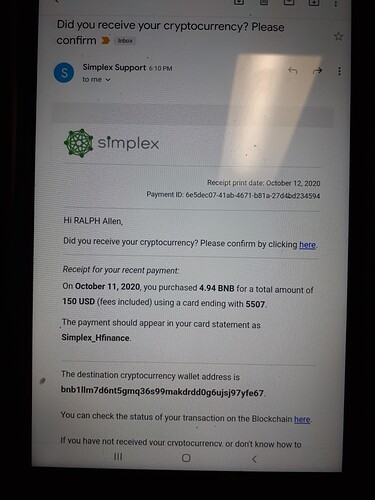 I hope we can get this all figured out, thanks in advance,
Smotty
also if you need.
Here is
My-link> https://share.trustwallet.com/R5JxRvv
My-BNB address> bnb1kng93xtddyu5dnj9mqml7xm3whp0m8slnvxyh7
Hello @mthaza222, where exactly?
Hi @smotty, you are eligible if you invited a NEW user (never installed the app on his device).
Hello Team,
I see same problem, I invited couple of friends but app still shows invited 0.
I sent them my link and they installed it by clicking on the link.
recieving adress of purchased crypto is bnb1477ldnrnstzu6lk9ye9xh9f7jkag6dt3ltyudc

inviter bnb adress is bnb1dj8d3n3xune6zy27y2hzzcuwf7hs0ksvq85uxz
referal link of inviter is
https://share.trustwallet.com/aUz0ylV
So what you're saying is,
we out of luck I'm receiving our 50 TWT. For buying more than $50 in crypto
BecauseIf my friend I downloaded Trust Wallet from the App Store accidentally.
instead of my link…
Then… He can never be added to my invite list.
Even if he uninstalled trust wallet app right away, and then reinstalled it from my link within 5 min.
( That should be in BIG BOLD writing in the help topics; How to invite new users)
Thanks for giving the requested details @mthaza222! The team will investigate the issue so it will take some time, cheers!
@smotty
Unfortunately, yes. It will only work for users who installed for the first time.
@iamdeadlyz Could you please look into my issue I commented above… I also started a new thread but it is still not published and am not even sure where that thread is. I sent my link to 2 new users and they installed via the link. But still the invited is 0
Hello @magicalMj,
They need to click the link again after installing from your link so they can activate the referral link.
@iamdeadlyz Oh that's strange, where is this step mentioned.? Alright so after installation and creating a wallet I asked my friend to click on link again and strangely they get this error, attached screenshot. Am 100% sure they didn't download directly from playstore. Could you please get this investigated.
Hello, on 12th October my friend installed trust wallet app and buy $50+ BNB using my ref code but he doesn't receive any TWT. My code still active and show 1 completed. Thank you.
@magicalMj
Looks like we got our answer here. Based on the screenshot, the referral wasn't accepted since it does not meet the said requirements.
Hi @Valentino, please provide us the following information:
Crypto purchased
Receive address of purchased crypto
Your BNB address
Your referral link
The team will review your case, it might take some time
BNB
bnb1q0x3s8mdvg7redx46cgaswkk2nqhfn76kdpwnh
bnb1vk6kh8a2zru8xnp3a3g6zt4sy7ntgakd3c2sqg
He said that he bought using Moonpay, the order id is 0007b468-3a96-48b0-a478-cce494fce0b2
Thank you
@Valentino
Noted. Your concern has been relayed. It will take some time since the team will investigate it, cheers!
– Locking the thread since this is an old one and your question is already answered. Feel free to create a new thread if necessary.