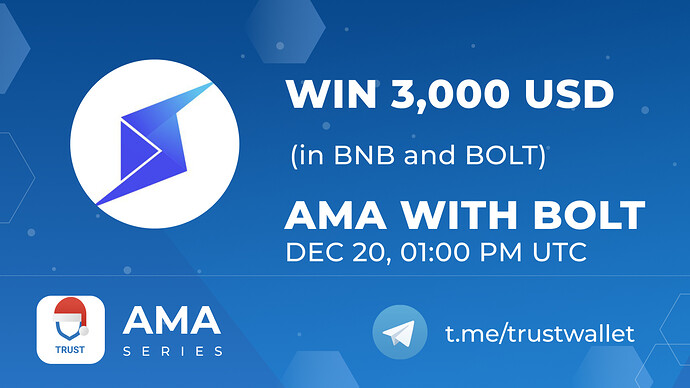 Ho Ho Ho

! How about some festive fun?

We invited BOLT for an AMA 'tis Friday, December 20th, 2019 UTC 1:00 PM. AMA stands for "ask me anything." It's an event during which a person will answer questions from an audience. This time we invited BOLT Co-Founder Christel Quek to join us on our Telegram group, where she will be ready to answer your questions! This is your chance to get some first-hand experience with projects running Binance Chain. This is also a great way to learn more about what's going on within the Binance Ecosystem and its partners! For some, this might already be enough fun!
But besides the AMA, our friends from BOLT are also running a Giveaway (two to be precise) across Twitter, Facebook, and Telegram group. Be sure you don't miss out!
OFFICIAL RULES
No purchase necessary.
Void where prohibited.
Winners must download trustwallet.com App to receive the prize.
On Telegram, every Entrant with five (5) correct answers will share a total prize pool of $1000 USD in BNB. The number of winnings will depend on the number of eligible entries received. Additionally, five (5) people picked by the BOLT team will win a prize of $100 USD in BNB each. For this, you must ask a question to qualify.
Look on our Twitter and Facebook pages for rules of the "Social Media" giveaway.