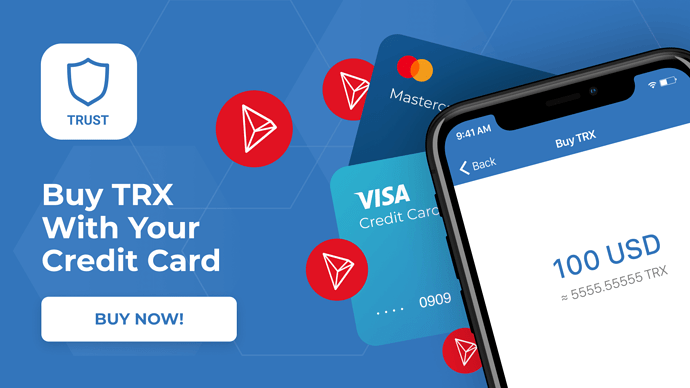 Today we are psyched to announce some new features we are adding to Tron TRX that have been requested by our community. You can now send and receive your favorite TRC20 Tokens like WINK, USDT, and BitTorrent with your ideal wallet, Trust Wallet.
Since we love to make it easy for you to buy your crypto, this next announcement is even more exciting for us. You can now buy Tron with your Credit card directly through Trust Wallet. This brings the total amount of coins you can buy through our wallet up to 9. Besides Tron, these include Bitcoin, Ethereum, BNB, ATOM, and others.
After you purchased your first (or second) batch of Tron, why not do something useful instead of merely holding them with your wallet? Head over to our staking platform, where you can delegate your TRX and gain over a 4% return in a year. In case you don't know what staking means, this great article by Binance Academy explains it.
Making crypto and our multi-coin wallet as user-friendly and accessible as possible is our mission. Trust already supports Litecoin, Stellar, XRP, and other digital currencies. Adding more buying options for crypto is another step in this direction.