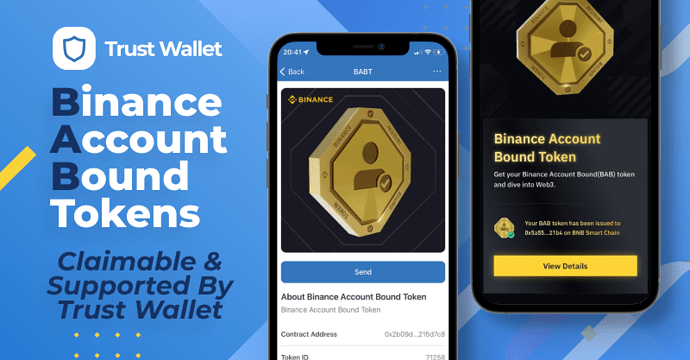 Trust Wallet supports Binance Account Bound (BAB) Tokens
We are happy to announce that Trust Wallet users can now claim and store BAB tokens directly on their Trust Wallet. This allows you to own a digital verification of yourself as a Binance user who has successfully completed the KYC process.
First thing is first, what are BAB tokens?
Before we unpack the BAB token, it would be best to understand what Soulbound tokens (SBTs) are. Soulbound tokens (SBTs) were first introduced by none other than the man himself, Vitalik Buterin who is the creator of Ethereum. They are non-transferable tokens that use blockchain technology to represent a person's identity. SBTs allow you to prove your identity in the decentralized Web3 world by attaching real life information like your university degree, medical records, or work history to make up your unique digital identity.
In a nutshell, Binance Account Bound (BAB) tokens are the first-ever Soulbound Token (SBT) built on the BNB Chain. BAB token is non-transferable and has no monetary value and will function as a digital verification tool for Binance users who have completed Identity Verification.
How do you get your own BAB token?
You have to mint it! But, a couple of things you have to know first.
BAB tokens are Non-transferable. Users cannot transfer BAB tokens to other users.
They are Revocable. Users can revoke their BAB tokens.
They are unique. One verified Binance user ID allows the user to mint one BAB token only on a certain chain.
How do you mint your own BAB token?
Binance users who have completed their identity verification can mint their BAB token directly in their Trust Wallets.
Here is a how-to guide on how to mint your BAB token from our friends at Binance! Of course, you're going to select the 'Trust Wallet' option.
Don't have Trust Wallet yet? Download here: Trust Wallet App
Note: Trust Wallet allows you to self-custody your BAB token, so be sure to mint it on your Trust Wallet address. If you missed this step, you could always revoke your BAB token and mint it again on your Trust Wallet address. But note that BAB tokens have a 72 hours lock period. This means after revoking your BAB token, you need to wait for the lock period to be over to mint your BAB token again.
What can you do with your BAB token?
The BAB token initiative is a huge step towards making soulbound tokens useful in the real world. Some of the use cases of owning a BAB token can range from exclusive airdrops and VIP benefits to newly launched feature access across multiple Web3 projects building on the BNB Chain ecosystem.
You can learn more here by reading the announcement post from the BNB chain website.
Why use Trust Wallet?
Trust Wallet is an easy to use, true multi-chain noncustodial wallet, which allows you to store and manage over 7 million crypto assets including NFTs across 68+ blockchains. No more storing your assets across multiple custody wallets or exchanges! You'll have peace of mind knowing all your assets are in one safe place.
Your private keys are stored on your device and your assets on-chain meaning you are in full control at all times. Trust Wallet gives you the ability to natively buy, swap and stake your favourite crypto without having to leave the app and also connect to dApps with the in-built DApp browser.
Trust Wallet is used by over 50 million people worldwide!