For all those community members who recently missed the opportunity to participate in the TWT giveaway on Twitter, here is an opportunity to get something more exclusive. Trust Wallet is giving away 10 Limited edition NFTs to selected few.
Here is the link to the tweet Trust wallet NFT giveaway
Just to let you know that by sharing this, I am reducing my chances for winning this, but still I will be happy if someone from our community wins.
Lets go Trust Community and get the NFTs.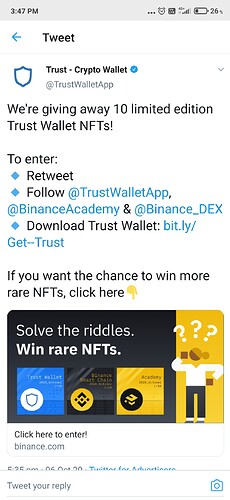 Plus you also get a chance to win exclusive NFTs from Binance by clicking on this link. Get your brains working and try these ones too. Do share the answers to see whether you got them right .