No idea, I want to know status of the project, where can I trade this?
It's not active.i think it's an upcoming attached to USDT
What does it means its an "upcoming attached to USDT"?
It's has no market value yet, you know bitcoin and bitcoin cash I guess that's what it seems like just keep an eye on it it may worth something tomorrow
Wow sounds great, thank u so much for sharing this info









It has market value worth $0.020. Search on coingecko. I don't know why on trustwallet, it hasn not value. Or maybe inactive?
That value is not real, I think the tokens is dead lol
It's real. It has market cap worth $25M, market cap rank pon coingecko #246, and trading volume worth $458,000. FTX is the current most active market trading.
FYI there are 2 types of CUSDT, one is cUSDT or Token Compound USDT and the other one is CUSDT or CTether USDT.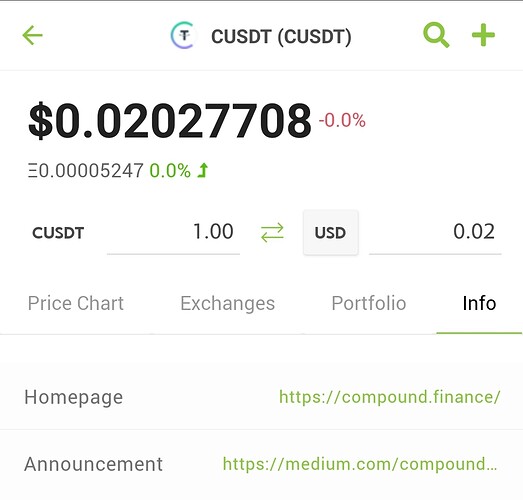 The logo of the 2 CUSDT are different from each other.
Да! Он активен что и как быть