Turn on that Price Alert and get notified of the market changes.
Learn more here:

It's amazing to keep tap on market conditions
Can't find it though I have updated as well but it's not there.
It's available on version 1.22.4
Seen just saw the update now
I did the upgrade on my Trust wallet but version 1.21.6 comes down. What am I doing wrong?
This is a welcome feature to start with Bitcoin, Ethereum and Binance Coin. As the next step, please allow to add more user specific currencies for price movement monitoring.
Indeed, this is a welcomed development.
We, the Community, are grateful!
Thanks @TrustTeam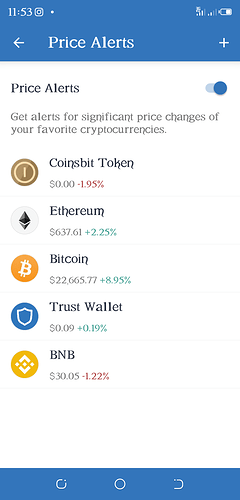 Great!!! This is all we wanted before. Thanks a lot for adding this PRICE ALERT FEATURE in our App #TrustWallerApp. You always there for us. Keep on improving!
TWT adress :
bnb1w5dfguu92vpwg3h0a0t9usqdzkry2nhr47vaew
Blessings,



@zachzwei Andrew I think it is time to close this topic before people fill it with their screenshots for the contest. Lolz
True this topic has been long over stretched. @zachzwei