Continuing the discussion from About the English category: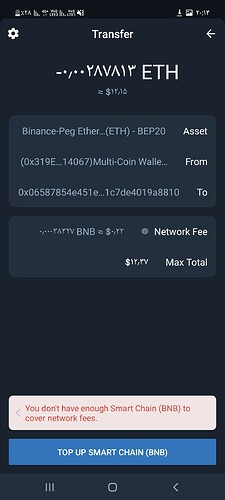 سلام، اونجایی که نوشته نتوورک فی رو میبینی؟! اون کارمزد شبکه هست، ینی برای انتقال ، جابجایی، فروش و حتی خرید باید اون عدد فی که اونجا نوشته روی شبکه ی مورد نظر داشته باشی، مثلا روی همین ارز گفته باید این مقدار خیلی کم رو بابت کارمزد شبکه پرداخت کنی، که دارم میبینم اسمارت چین توی کیف پولت نیست، یه مقداری از ارز دیجیتال بی ان بی خریداری کن و بریز به آدرس کیف پولت
حداقل ۲۲ سنت اسمارت چین فی شبکه ازت میخواد، خیلی ناچیز هست. کیف پول تراست ولت حتما مطمعن شو که ۱۲ رقم رمز خودت رو به کسی نداده باشی، به هیچ کس.
Hi I have a big problem with trustwallet I bought a coin few hours ago on trustwallet and the price of that coin went 6 times up on coin market but on my trustwallet it shows that's my money decrease while even trust wallet show that token is 640% up I have screenshots and pictures all the proofs, need help please !!! Does trustwallet taking people money??