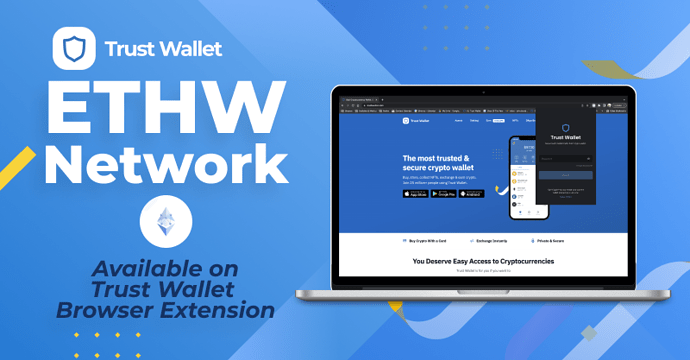 Trust Wallet provides users with the ability to transfer their EthereumPoW (ETHW) tokens
We are happy to announce that the Trust Wallet dev team has added support for ETH Proof of Work (ETHW) through an early version of Trust Wallet's browser extension. This upgrade allows users to transfer ETHW from their Trust Wallet to an exchange where they can trade it.
Don't have the Trust Wallet Browser Extension yet? Download here now
This update follows on from a governance vote we cast a few weeks ago, where our community decided whether we should focus on integrating the Aptos network or the ETH PoW network onto our mobile wallet.
Spoiler Alert - Aptos won. But, we know that for some of you, it is important to have access to the ETHW chain, so we have decided to add the possibility to custom add the ETHW network to our new browser extension.
A bit of background on the Ethereum Merge/Hard Fork
On September 15, the Ethereum network concluded a historical event in the world of crypto called The Merge. In a nutshell, the Ethereum mainnet merged into the Proof of Stake system. Coordinated by the Beacon Chain, Ethereum's ecosystem transitioned to only use a Proof of Stake mechanism to secure its network.
After The Merge happened, Ethereum's Proof-of-Work (PoW) was replaced with Proof-of-Stake (PoS) consensus mechanism. Instead of mining, blocks will be minted by nodes called validators. You can read more about it here.
While most Ethereum users transitioned to use the upgraded network that runs on Proof of Stake, some continued to use Ethereum's Proof of Work blockchain ETHW.
Any Trust Wallet user that held ETH prior to The Merge can still see ETH reflected in their wallets, however that ETH is now on the Proof of Stake network. For users who want to hold ETHW, the story is a little different.
However, the team at Trust Wallet believes that our users should also have the ability to transfer their hard forked ETHW to exchanges and sell it if they wish to do so. Therefore, we also provided support for ETHW for our users to do just that!
You can view the list of exchanges that should allow you to sell your ETHW here.
How can I transfer my ETHW using Trust Wallet?
For users who want to transfer their ETHW, Trust Wallet has an early version of the browser extension that you can download to be able to do that. Once you download the browser extension wallet, you will be able to add a 'Custom Network' that allows you to see and transfer your ETHW.
Below are the steps to follow:
Step 1: You'll need the Trust Wallet Browser Extension (linked at the top of the page). Oh, and don't forget to leave us a review on the chrome store!
Step 2: Add a custom network
Head over to settings on Trust Wallet's browser extension.
Click the network button the click 'Add Custom Network'.
Then a new tab will open in your browser.
Now your ETHW should appear if you held ETH in your Trust Wallet before the merge.
You will now be able to send and receive your ETHW to your Trust Waller browser extension wallet.
Why use Trust Wallet Mobile?
Trust Wallet mobile is an easy to use, true multi-chain noncustodial mobile wallet, which allows you to store and manage over 7 million crypto assets including NFTs across 68+ blockchains. No more storing your assets across multiple custody wallets or exchanges! You'll have peace of mind knowing all your assets are in one safe place.
Your private keys are stored on your device and your assets on-chain meaning you are in full control at all times. Trust Wallet gives you the ability to natively buy, swap and stake your favourite crypto without having to leave the app and also connect to dApps with the in-built DApp browser.
Trust Wallet is used by over 50 million people worldwide!
You can download our mobile app here or, find the browser extension in the Google Chrome store.