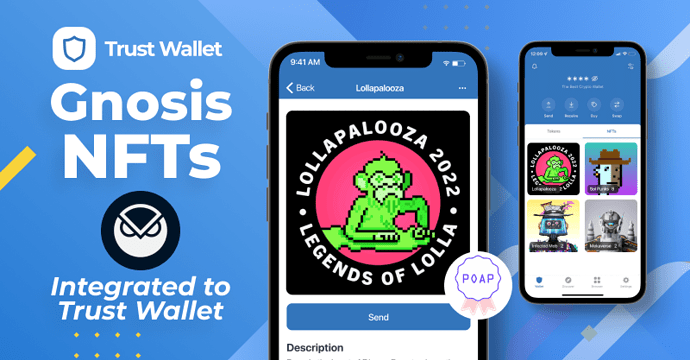 Trust Wallet now provides support for Gnosis Chain NFTs
We are excited to announce that Trust Wallet now provides support for Gnosis Chain NFTs! Be sure to update your Trust Wallet to the latest version to utilise this update.
Don't have Trust Wallet…? Download here: Trust Wallet App
What are Gnosis Chain NFTs?
Gnosis Chain (formally xDAI) is built on the Ethereum blockchain and the NFTs are the ERC-721 tokens associated with the chain.
An example Gnosis NFT is a POAP. But what is a POAP?
POAP (NFT) stands for proof of attendance protocol and is a system that allows humans to collect badges for participating in an activity or performing a specific action in person or digitally. POAPs themselves are NFTs that reside on the Ethereum blockchain inside of a user's Wallet.
What can you do with a POAP?
A POAP can be used to prove your attendance to a particular event that took place virtually. However, POAPs are not limited to virtual events as you can claim a POAP NFT if you attend a real world event like visiting Trust Wallet at a community meet up!
POAP NFTs have sentimental value to users as they help record their life experiences on a secure blockchain. People use them as virtual tokens or assets that embody important milestones that they have achieved or events that they have been a part of.
How does this feature benefit Trust Wallet users?
You can now store your Gnosis & POAP NFTs on Trust Wallet.
You now have the ability to store your POAP badges, send and receive them using your Trust Wallet app
Why use Trust Wallet?
Trust Wallet is an easy to use, true multi-chain noncustodial wallet, which allows you to store and manage over 6 million crypto assets including NFTs across 68 blockchains. No more storing your assets across multiple custody wallets or exchanges! You'll have peace of mind knowing all your assets are in one safe place.
Your private keys are stored on your device and your assets on-chain meaning you are in full control at all times. Trust Wallet gives you the ability to natively buy, swap and stake your favourite crypto without having to leave the app and also connect to dApps with the in-built DApp browser.
Trust Wallet is used by over 50 million people worldwide!
Additional resources
https://twitter.com/gnosischain
Useful links
Github:
Twitter: