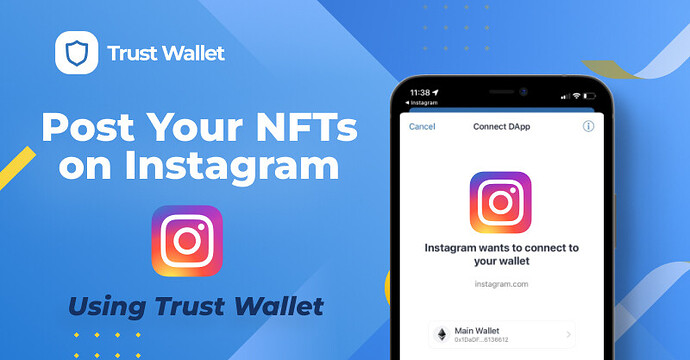 As you all know, Meta recently started allowing users to post their NFTs on Instagram and Facebook. Trust Wallet is one of the wallets that is supported by Meta which means if you have a Trust Wallet, you could easily post your digital collectibles on your social accounts.
Don't have Trust Wallet downloaded yet? Download Trust Wallet here.
Here is a quick guide to show you how to connect Trust Wallet to Instagram so that you can start showing your instagram followers your cool NFT collection!
Note: Meta has rolled out NFT support for Instagram in over 100 countries, but if you don't find the 'Digital Collectibles' option in your menu try updating your Instagram, otherwise this service might not be available in your country just yet.
Step 1
First thing that you need to do is to go to your profile page on your instagram account and click on the three lines on the top right corner to select 'Digital Collectibles' from the menu.
Step 2
Click on Connect Wallet when prompted and read through Meta's information about posting Digital Collectibles.
Step 3
When you reach the 'Select a Wallet' page, select Trust Wallet and click 'Continue and agree'. Instagram will then request permission to connect to your wallet. Click 'Connect' then click 'Open Trust Wallet' to verify your wallet, and then sign the request to connect your wallet.
Step 4
After you sign the request, you will be able to see and select from the NFTs stored in your Trust Wallet.
Note: Meta only supports Ethereum, Polygon, and Flow NFTs. Since Trust Wallet doesn't have support for Flow NFTs just yet, be sure that the NFT you want to post is either an Ethereum or a Polygon NFT otherwise you won't be able to view it in this step. For example, you won't be able to view your Solana or Binance Smart Chain NFTs or any other NFTs that are not supported by Meta.
Step 5
The process is now exactly like posting a regular image on your Instagram account. Just select the NFT you would like to post, write a caption and tag the creator if you wish then share it on your feed and that's it.
Have fun with it!
Why Use Trust Wallet?
Trust Wallet mobile is an easy to use, true multi-chain noncustodial mobile wallet, which allows you to store and manage over 8 million crypto assets including NFTs across 70+ blockchains. No more storing your assets across multiple custody wallets or exchanges! You'll have peace of mind knowing all your assets are in one safe place.
Your private keys are stored on your device and your assets on-chain meaning you are in full control at all times. Trust Wallet gives you the ability to natively buy, swap and stake your favourite crypto without having to leave the app and also connect to dApps with the in-built DApp browser.
Trust Wallet is used by over 50 million people worldwide!