Same with me! My BNB address is: bnb1pz4vgjfyphf7kszckjy3kx445cqvk074p3d4kh
I can't buy anything, it's so annoying :s
Transaction hash for the BNB that isn't showing up is: BDC160CFBFB6F55A01F43FC5CA90EE117AE15CE832F1F86E802F5EA59D6BD06B
Wallet Core: 2.6.4; Version: 1.29.3

BNB address: bnb1pz4vgjfyphf7kszckjy3kx445cqvk074p3d4kh
Binance-Peg Ethereum address: 0x9163849A905E4D79c5e5B34773f0B30A3eFf3fB3
(I want to switch Binance-Peg Ethereum to BNB, please. No idea how, cos am new to crypto.
Not sure if I have tx has or link, will look and update.

For BNB not showing up issue, I was trying to buy a token on the Binance Smart Chain.
For the Binance-Peg Ethereum issue, I simply transferred some Ethereum from Binance. (However, now I'd like to convert the Binance-Peg Ethereum into BNB.)
@GoodDog you have BNB BEP2 but ETH and BNB (on PancakeSwap) you want to use are on BEP20 blockchain.
You can crosschain swap your BNB BEP2 that you have certainly in your wallet to BNB BEP20 (Smart Chain), follow this guide: How to make a Crosschain Swap on Trust Wallet
When swapping make sure you leave some BNB BEP2 for covering swapping fees.
After swapping to BNB BEP20 You can be able to convert your ETH BEP20 and your BNB will be visible on PancakeSwap too.
Thanks, I followed that link and it helped me with one of the issues, but I still have this displayed instead of normal ETH:
How do I un-peg the ETH, so to speak?
Thanks. How do I prevent Binance-Peg tokens from happening in the first place?
Select correct chain when withdrawing from exchange such as Binance.
….
Just as I'm so new, I wanna make sure I'm on the right track. Is this fine so far? Have highlighted in red that they're both BEP20.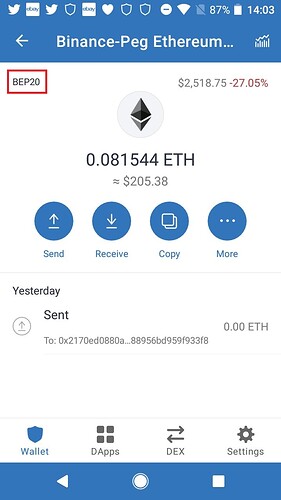 Yes @GoodDog
…………………………………………………………………………………………………………………………………………….………