Hi @Yfresh,
Please be informed that you have withdrawn Binance-Peg Ethereum Token (BEP20), not the native Ethereum.
To access it: Please tap the toggle sign on the upper right of the main wallet screen, search for Ethereum, and enable the one with BEP20. You can also follow this guide: How to Add or Remove a Coin
Please please help I send ETH from binance everything correct but didnt received in my trust wallet what should I do please
Hi,
I sent AMBROSUS coin from Binance and Deposit to TrustWallet AMBROSUS but it didn't receive.
The transaction showing completed and I was advised by Binance support to contact TrustWallet as the coin was not on Binance anymore.
TxID:
0xb906b751f2f1e8df5feb847376bac3050a50046d0d0370cc67cca99f4fe41aee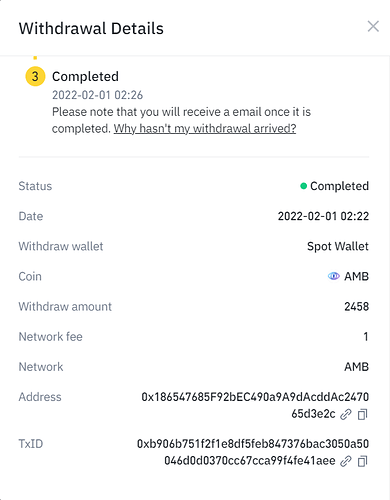 Hey @monovirus11, Trust wallet doesn't support that blockchain yet.
You can try to import your recovery keys to a wallet that supports that blockchain to access your funds.