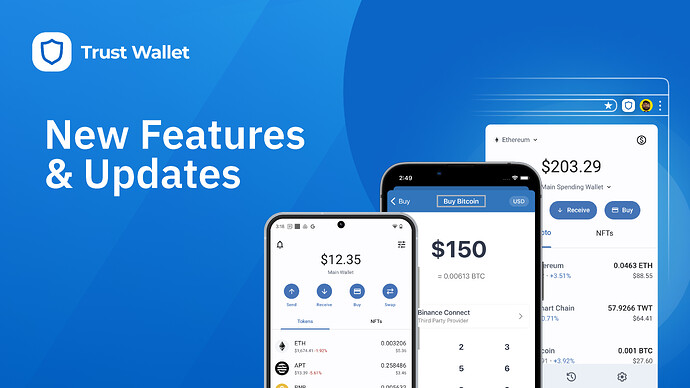 We have some exciting updates for you, enriching your iOS experience. Let's dive into the details!
Wallet homepage design refresh
Next Gen Guest mode
Security scanner v2 with detailed risk descriptions
Upgrade to the latest version of Trust Wallet by clicking the button below.
iOS
Wallet Homepage Design Refresh
We've given the wallet homepage a brand-new look using new iOS components. Update your app to see the rejuvenated design.
Next Gen Guest Mode
Experience an improved Guest mode, providing a seamless browsing experience without requiring an account.
Security Scanner v2 with Risk Descriptions
Trust Wallet now features an upgraded security scanner, providing comprehensive risk descriptions to ensure user safety and awareness.
Android
Stay tuned for exciting Android updates this week
We're bringing some thrilling updates to our Android users too. Keep an eye out this week for improvements that will further enhance your Trust Wallet experience on Android!
Stay connected for further updates, and be sure to follow us on our social channels.
Join the Trust Wallet community on Telegram Follow us on Twitter Instagram Facebook Reddit