Since btc hasn't broken the 12k mark, what's happening
Bitcoin is on a retrace…it will bounce back stronger I believe.
Now can be little bit correction then it will do high move
The future of money is bitcoin … just matter of time
I don't think it is the end of anything. Bitcoin just broke a couple of weeks ago the two descending trend-lines for the first time since the correction in 2017 started. As you can see from the chart below, we are are the upper band of the RSI and might get a slight correction back to the Fibonacci golden pocked (0.618-0.65 area) and find the trend-line as support (S/R flip).
BTC/USD Weekly Chart: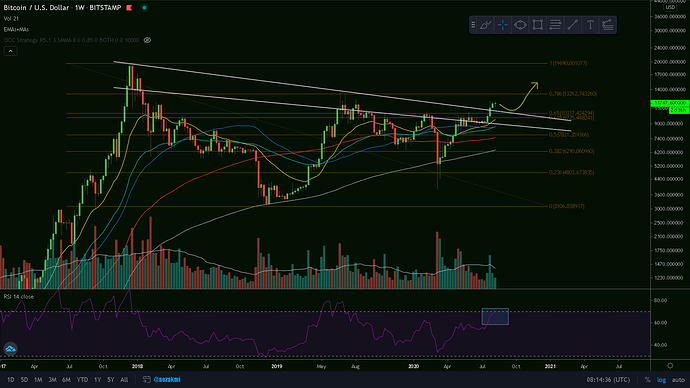 ---
So, as long as we stay above $10500, we are still in a bullish trend!
Cheers,
Aezakmi
Its not actually the end of bull run but gaining more momentum to sky high is what is happening now. Itell you before 25th August btc will reach $14,000
uum, nope?! we havnt even fully started

:
This is just a recovery period and that is why we are heading close to the old ath so that a new one can be set. Watch out 2021.