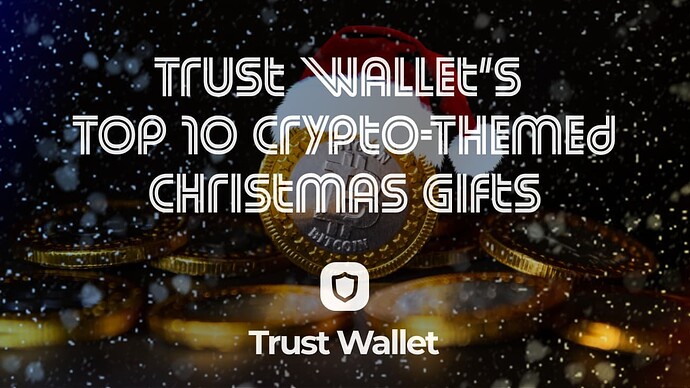 Top 10 Christmas Gifts You Can Buy With Cryptocurrency
With Christmas just around the corner, it's time to get all that Christmas shopping done before it's too late. To help you with that, we have created a list of ten crypto Christmas gifts you can buy using cryptocurrency to give to your loved ones.
1. Books About Crypto
If your loved one likes to read and wants to learn more about web3, crypto books are the way to go.
Examples of books that you can buy as gifts include Mastering Bitcoin by Andreas Antonopoulos or The Basics of Bitcoins and Blockchains by Antony Lewis and more. Depending on where you or your friends are on the crypto journey - beginner, intermediate, experienced - there's a crypto-based book out there, ready to be bought by you!
2. Crypto Socks
If you want to stay conventional with your gifts but not boring, consider getting your friends or family fun crypto merchandise, such as crypto socks. Besides crypto socks, there's also a plethora of merchandise that you can buy if you are looking for a wide array of crypto gifts for your crypto-enthusiasts friends.
3. A Block Clock
Yes, you read that right! A Block Clock is not only an out-of-the-box gift idea, but it can mean so much to the receiver, especially if the recipient is a Bitcoin fan. A Block Clock can add some razzle dazzle to just about any space making it stand out. The best part, however, is that it makes it possible for you to track bitcoin prices from exchanges and see the blocks as they are mined in real-time.
4. Crypto Gift Cards
Gift cards are not only thoughtful but are excellent when you don't necessarily know what to get someone. Gift cards bought using crypto work the same way as traditional gift cards. As a crypto holder, you can purchase gift cards for your loved ones this Christmas and pay for them using Bitcoin via platforms like Bitrefill.
Bitrefill is a gift card site that allows users to buy gift cards from over 750 retailers. You can also purchase mobile recharges using Bitrefill and pay using BTC, DASH, and ETH, among other cryptocurrencies. Besides Bitrefill, there are numerous other platforms that allow you to purchase gift cards using crypto.
5. A VPN Subscription
Virtual Private Networks (VPNs) are an excellent tool for providing users with safety through anonymity, bypassing geo-locked content, and providing privacy for users, among others.
This holiday season, a VPN subscription from a service provider that accepts crypto payments could be the gift that keeps your loved ones safe from crypto theft while allowing them to enjoy more privacy online.
6. Online Courses to Learn About Crypto
With the growth of online learning sites, it has become easy for anyone to learn about cryptocurrency from anywhere in the world. If you have friends or family interested in learning about cryptocurrencies such as Bitcoin and its underlying technology, blockchain technology, consider getting them an online course about crypto on credible sites like Saylor Academy and Binance Academy.
7. An NFT
Non-fungible tokens (NFTs) are unique digital assets that are created and stored on a blockchain. The NFT market became popular in 2021, with NFT artwork selling for millions of dollars, making it an exciting Christmas gift for individuals interested in digital art.
To date, Pak's The Merge remains the most expensive NFT sold at $91.8 million. However, you don't need to fret if you don't have millions to spend. There are several NFT pieces that go for a few dollars that you can consider. Moreover, NFTs are not only creative but unique. And if its value doesn't grow, it can at least have some sentimental value to the receiver.
If you are sold on gifting an NFT this Christmas to a loved one, consider doing so using Trust Wallet. Trust Wallet is a non-custodial crypto wallet that allows you to buy, sell and store cryptocurrencies and NFTs.
8. An Ugly Crypto Christmas Sweater
Ugly Christmas sweaters will never go out of fashion during the holiday season.
If you plan to send a family Christmas card, consider buying your entire family an ugly crypto Christmas sweater and have everyone rock it for the Christmas card photo or throughout the entire holiday season.
9. The Bitcoin Whitepaper Framed
If you are into wall art and want to make a statement about your love for Bitcoin in your home or office space, consider getting a framed Bitcoin Whitepaper.
Written by Satoshi Nakamoto back in 2008, Bitcoin Whitepaper is the original paper that was written describing Bitcoin's original plan and protocol.
Depending on what your budget is, you can purchase the Bitcoin Whitepaper in a range of styles, sizes, and frame colors on sites such as Redbubble.com and pay using digital currencies such as bitcoin.
10. A New Year's Getaway
The Christmas season is always about putting happy smiles on people. And what better way to do that than to gift your loved ones a New Year's getaway by booking them a trip with Travala?
Travala is the world's leading blockchain-based travel booking platform that accepts over 50 different digital currencies. You can book a trip to anywhere in the world and choose from the more than three million travel products that they offer.
11 (Bonus!) Use Trust Wallet to Seamlessly Pay with Crypto
Whatever you plan to buy with crypto this Christmas, you can pay with the click of a few buttons in your Trust Wallet app. The leading mobile wallet enables you to secure store and pay with 4+ million digital currencies and tokens, allowing you to pay with whichever cryptocurrency your chosen online merchant accepts.
Moreover, you know your funds are safe in Trust Wallet because it is a non-custodial wallet, which means only you have access to and control over your funds.
Download Trust Wallet today and pay for anything with crypto with ease.