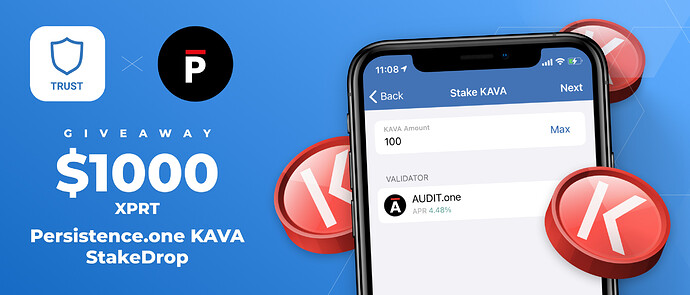 To celebrate the Persistence.one StakeDrop currently available in your Trust Wallet app, the team are giving away an additional $1000 of XPRT, on top of what you will automatically earn by taking part.
What is Persistence?
Persistence is a protocol powering institutional open finance by facilitating the borrowing of cryptoassets (stablecoins) using real-world assets, such as invoices, as collateral. This bridges DeFi and traditional finance and uses the features of DeFi to solve real-world financing problems.
XPRT will carry a variety of use cases within the Persistence ecosystem, including participating in staking to contribute to network security, and community governance of the Persistence mainchain.
Giveaway Rules
To have the chance to win an additional 40 XPRT, you must do the following:
Follow @trustwalletapp & @persistenceone
Retweet the contest tweet
Stake at least 10 KAVA, join the StakeDrop and enter your ERC20 address: here
The giveaway runs till 23:59 UTC on Dec 1. Please note, the XPRT Tokens will not be available in your wallet until January.