Today, we are excited to announce our latest product, the Trust Platform. With Trust Platform, manage your crypto assets without the need to trust any human intermediary to take care of your asset.
"We believe that staking is the essential functionality for users to participate in the security of the blockchain network and a way to earn interest on your crypto holding. Current solutions are limited or not accessible to most users. Trust Platform will provide users easy access to decentralized finance on any blockchain and provide developers all the necessary tools to build integrations on top of it to integrate more services like WalletConnect or support for different software and hardware wallets", said our Founder Viktor Radchenko. "Trust Platform will give anyone access to a new Decentralized Financial System without central control."
Staking for everyone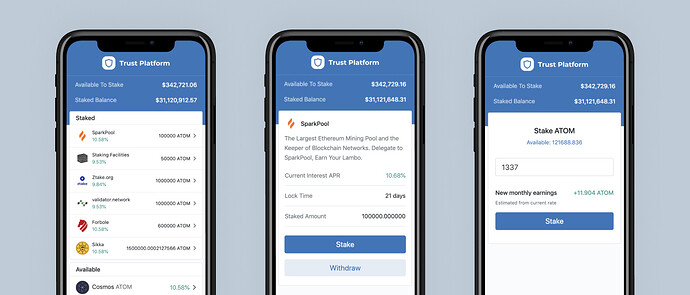 Our goal is to make the
staking
economy more accessible to everyone. We'll be simplifying our on-boarding and sharing more guides and resources. Trust Platform is a staking and governance platform for token-based communities. We'll be adding support for many new networks in the coming months. We don't run a validator on any network. We're focused on building the best tools around and we don't have a stake in which validators you end up choosing.
Future Outlook
Bitcoin and early cryptocurrencies only decentralized the issuance and storage of money, not access to the financial system. In its current form Trust Platform lets you validate transactions and earn interest in a process called staking. But we envision Trust Platform to be your one stop solution for the new Decentralized Financial (DeFi) world. This means it will become a provider for token liquidity through integrating with Decentralized Exchanges (DEX), users will be able to participate in Blockchain Governance or participate in new decentralized lending and borrowing networks. As our industry grows, Trust Platform will grow with it.
Platform Interoperability
We would like Trust Platform to become a universal
Staking
and DeFi Platform working across all Blockchains and Devices. We are constantly working on building out, improving, securing, and innovating the code everyday. Please feel free to look at our
repo
and play around with the code. Valuable feedback is always appreciated.
How does it work?
You can already stake your ATOMs through the Trust Platform right now! Simply go to platform.trustwallet.com and choose either Trust Wallet or WalletConnect to access the platform. Later support for Hardware Wallets will be available, allowing you to stake right from your cold storage.