I have been using Trust Wallet for several years now, and have often done this same transaction. In fact it's pretty much the thing I do with TrustWallet now, just to get money from one exchange to another. I use BNB. But today for the first time it errored out on an action I have performed countless times…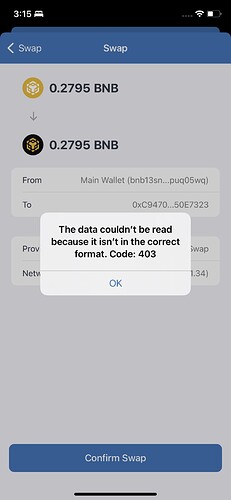 The error says:
"The data couldn't be read because it isn't in the correct format. Code: 403"
Again all I do is select BNB, select swap and then put in the amount, and hit preview. It shows preview that seems ok, and I hit to apply and it then gives me this new error code.
The version on my phone definitely has a different interface then last I used it about a month and a half ago. The version I am using now is…
Version: 8.5 (753)
Any help with this would be greatly appreciated as now my fund are effectively trapped and I can't get them out if I can't transfer them to Smart Chain from BNB.
Yea, thanks again.