Trust Wallet version: 1.30.25
I just attempted to swap BNB bep2 for the leveraged BEP2 token XRPBULL in trustwallet.
But XRPBULL reflects no coin in trustwallet!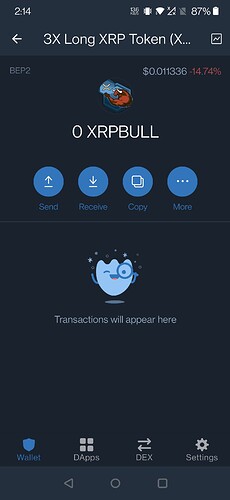 Then I find out my BNB has been locked!
This is my BNB BEP2 address is trustwallet:
bnb1cl27qa8re0lchjqvrxl737dxdkajfrhkpwzduc
But I cannot look up this address on bscscan, it doesn't seem to recognize BEP2?
How do I unlock my funds? And what happened to XRPBULL?
It looks like it's locked from staking but it is not, because staking requires 1 BNB minimum and as you can see the locked funds is not even 1 BNB.