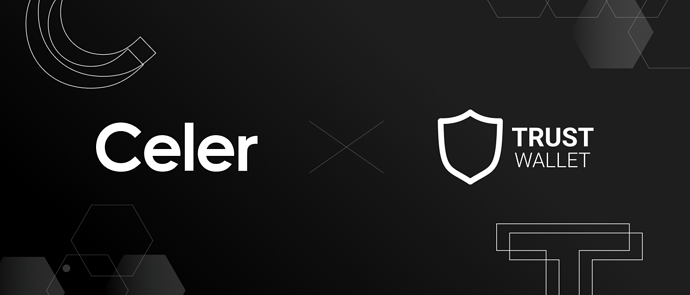 We are happy to announce that a strategic partnership with Celer Network has been formed, to create seamless integrations and fluid interactions for user experiences on decentralized applications (dApps). This partnership will empower developers to easily onboard new users to various blockchains for dApps and easily build smooth user experiences on dApps only matched by centralized applications.
Bringing Layer-2 to Trust Wallet
"We are excited to work with Celer's talented team to bring layer-2 scaling solutions to all of Trust Wallet users, which will enable simple, secure, fast and verifiable transactions with user-friendly interfaces," said our CEO & Founder Viktor Radchenko. "We are integrating Celer Network's solution to Trust Wallet to help unlock the larger potential of blockchain technology for real-world use cases from financial solutions to gaming apps with its matched level of experiences on centralized applications."
The first phase of our partnership will focus on payments and simple interactive dApps, allowing Trust Wallet users to instantly send Ethereum (ETH) and ERC20 tokens including many stablecoins with zero latency through Celer Network's layer-2 scaling network. Our users will benefit from Celer Network's early demonstration, tentatively scheduled to launch during Q3 of 2019.
This long-term partnership will enable Trust Wallet and Binance users to access close-to-zero cost and unmatched user experiences on dApps such as interactive gaming, pay-per-use services, microinsurance, non-custodial financial assets exchanges and decentralized exchanges
"We are honored to have a valuable partner that is supported by millions of users in the market and focuses on its community needs; the Trust Wallet team shares our vision aimed at the greater cause and hopes for the industry," said Celer CEO Mo Dong. "We are excited to work with them to carry out the benefits of blockchain technology's massive potential with great user experiences. Trust Wallet has garnered confidence by showcasing the high-grade security of its advanced multi coin crypto wallet and dApps browser. Together, we will ambitiously evangelize blockchain applications to the masses through our technical abilities and advancements, and strongly supported entrepreneurship."
About Celer Network
Celer Network is a leading layer-2 scaling platform that enables fast, easy and secure off-chain transactions for not only payment transactions, but also generalized off-chain smart contract. It enables everyone to quickly build, operate, and use highly scalable decentralized applications through innovations in off-chain scaling techniques and incentive-aligned cryptoeconomics.