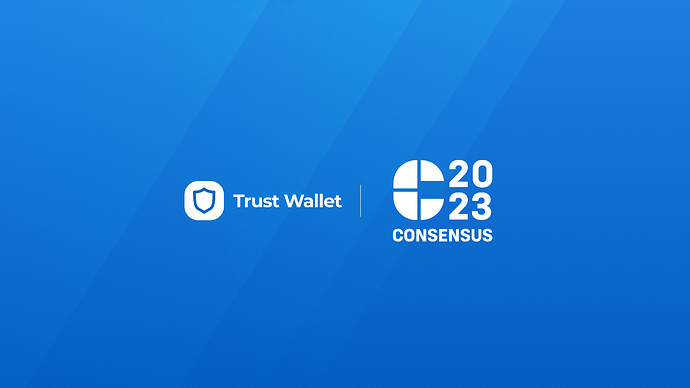 By Eric Chang, Head of Product | Trust Wallet
As the Head of Product at Trust Wallet, I recently had the pleasure of attending Consensus 2023, where we engaged with the community, discussed emerging trends, and explored our vision for the future. In this blog post, I'd like to share some key takeaways from the event and shed some light on Trust Wallet's direction moving forward.
Embracing Optimism: Crypto's Resilient Backbone
At the conference, numerous keynotes touched on the rollercoaster nature of the crypto market. Despite discussing the potential impact on DeFi, regulators, institutional investors, retirement funds, and distressed assets, speakers conveyed a sense of optimism. The underlying message was clear: crypto is here to stay and this experience will end up making our industry stronger.
Onboarding the Next 100 Million Users
I also had an incredible time presenting with Zhen Yu Yong – who's the co-founder of Web3Auth. We announced our social login wallet feature for the Trust Wallet browser extension.
This revolution brings a faster, more familiar wallet creation flow. Users will be able to use familair platforms, such as Telegram, Discord, Google, and email, to securely create a wallet using MPC (Multi-Party Computation) technology. We believe that wallet creation shouldn't be a barrier for anyone wanting to dive into Web3 and crypto.
In an industry where millions of people are still hesitant to join due to its complexity, we're working hard and leading the charge to make things simple, intuitive, and approachable for everyone. Connecting with Trust Wallet supporters during the event further fueled our passion to create an inclusive and user-friendly experience and I'm super excited to keep the positive momentum going.
Charting the Path to Mass Adoption: Trust Wallet's Mission
At Trust Wallet, we're obsessed with creating seamless experiences and providing real-world value for our users. By enhancing user experiences, simplifying operations, and empowering creators, Trust Wallet aims to drive mass adoption across the crypto landscape. This approach also enables us to build stronger relationships with our community and continuously improve our offerings.
Unleashing Gaming and the Metaverse: Breaking Free from Centralized Platforms
One of the highlights of the conference was the time dedicated to gaming and the metaverse. It showcased thought-provoking ideas, game design innovation, and architectural advancements. At Trust Wallet, we share a similar futuristic vision, one that moves beyond centralized internet platforms and embraces gaming experiences that tap into the limitless potential of blockchain technology. The synergy between wallets and the metaverse will ultimately redefine how we interact with digital assets and immersive experiences in exciting new ways.
Moving Forward with Trust Wallet
All in all, Consensus 2023 reinforced Trust Wallet's commitment to staying ahead of the curve in the rapidly evolving world of cryptocurrency. We prioritize great user experiences, foster accessibility, and consistently seek to unlock new opportunities.
Stay tuned for our latest updates as Trust Wallet continues this exciting journey into the future of cryptocurrency. Together, we'll forge new paths in the realms of blockchain technology and revolutionize the world of crypto for generations to come.
And in case you haven't tried Trust Wallet yet, get the latest version of our mobile apps browser extension here.
Join the Trust Wallet community on Telegram Follow us on Twitter Instagram Facebook Reddit