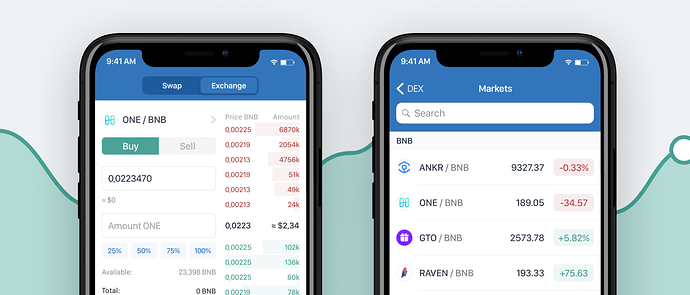 Trust Wallet was created with the vision of becoming a multi-purpose crypto wallet, which is Easy-to-Use and accessible everywhere. We wanted to create a versatile storage solution to address having to own different Bitcoin wallets & Ethereum wallets. Today we want to continue improving our Crypto Wallet with the release of the Advanced Exchange feature for Binance DEX, giving you more options in how you store & trade your Digital Assets.
Complete Order book and History
Powered by the core Binance DEX and KyberNetwork technology, Trust Wallet DEX is a modern, decentralized marketplace to exchange your digital assets. The new Exchange feature allows you to place limit orders, look at your trade history, giving you more control over how you Trade. Thanks to the addition of the new order book, you can precisely tap into the liquidity provided by Binance DEX when placing your orders.
Trade Bitcoin & Other Cryptocurrencies Directly From The Crypto Wallet
Experience a decentralized exchange that gives you the freedom to choose how you trade your digital assets with complete ownership of funds. Swap gives you the ease-of-use and accessibility you come to know and love to quickly trade your assets. Exchange builds on top of this feature but adds additional functionality for our power users. Trust Wallet DEX aims to provide a different balance of security, freedom, and ease-of-use, where users take more responsibility and are in more control of their assets.
Trust Wallet Interface Update — New Dark mode
We have been busy building features lately (We are continually improving the crypto wallet, hoorah). We want to highlight one of them, Dark-Mode, which is finally available for both iOS and Android. To enable it on iOS, you need to make sure that you are running at least iOS13 and have the new System wide Dark-Mode enabled. On Android, you find the toggle to switch between Light and Dark under the Settings tab inside your Wallet. We hope you enjoy trading your digital assets with the improved interface!