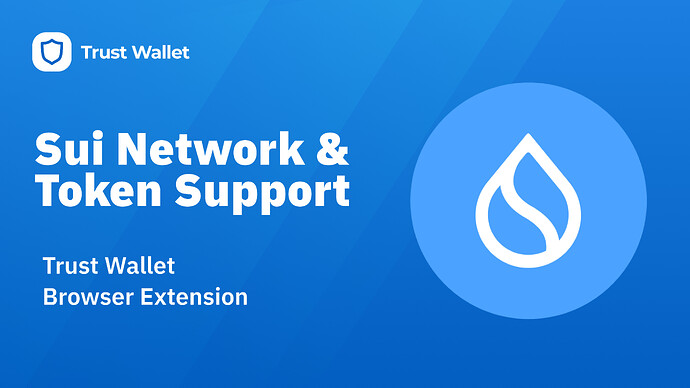 We're thrilled to launch support for the Sui Network alongside its official mainnet launch. At Trust Wallet, we see Sui as an innovative blockchain, and we're aligned with Sui's vision to "unlock the freedom to build powerful on-chain assets." With Trust Wallet, you can manage crypto assets across 70+ blockchain networks, which now includes the Sui Network. This means you can manage all your crypto assets in Trust Wallet across all the popular blockchains – eliminating the need to switch wallets or networks as you explore Web3. With Trust Wallet your Web3 experience becomes seamless.
What Is Sui and How Does It Work?
Sui is a groundbreaking layer-1 blockchain designed for high-speed, low-latency transactions. It focuses on instant transaction finality, making it perfect for on-chain use cases like games, finance, and other real-time applications. Sui sets itself apart from other blockchains by employing a unique consensus and transaction processing mechanism called "transaction parallelization." This approach allows for "parallel agreement" across different types of transactions, leading to increased scalability and impressive transaction speeds of over 100,000 transactions per second.
By adding support for Sui, Trust Wallet provides you with an opportunity to explore this innovative network that aims to cater to the next billion users in Web3. With its distinct features, Sui brings a unique approach to the Web3 space, offering an alternative to existing smart contract chains. Trust Wallet's support for Sui ensures you have access to this cutting-edge technology, empowering you to manage your assets seamlessly across the blockchains you want access to.
Getting Started with Sui Using Trust Wallet
Before you get started, be sure you have the most updated version of Trust Wallet.
You can send and receive Sui easily using Trust Wallet. For example, you can deposit Sui from a centralized exchange. To do that, you'll need your Sui deposit address. Let's have a quick look at that process.
Step 1: Get your Sui deposit address
Open the Trust Wallet App. If you don't see Sui on your home screen balance page, search for Sui using the token filter in the top right, or "Add Tokens" option.
Select Sui
Select "Receive" and copy your Sui address.
Step 2: Withdraw Sui from your exchange account to Trust Wallet
In this step, you'll paste your Sui deposit address into the appropriate area of your exchange account.
Navigate to the withdrawal option on the centralized exchange.
Locate and select the "Withdrawal" option.
Now choose the Sui asset and fill in all the information including your Trust Wallet Sui deposit address.
Note: Be sure to paste your Trust Wallet deposit address in order to avoid any errors.
When you've got all the information entered, select the option to confirm the withdrawal of Sui from the exchange.
If needed, follow any security verification instructions to complete the transfer.
And that's it!
If you'd like even more detailed step-by-step instructions on depositing Sui from a centralized exchange to your Sui Trurst Wallet address, use this guide: How to Withdraw Crypto From a Centralized Exchange (CEX) To Trust Wallet
Stay Tuned for More Updates
Right now, Trust Wallet supports the sending and receiving of Sui and supported tokens on the Sui network, including custom tokens. Stay tuned as we add support for Sui dApps, NFTs, naming service integration, and the buying and selling of Sui directly in the app.
Follow us on our social accounts so you don't miss any important updates and be sure to get the most updated version of the Trust Wallet app today.
Join the Trust Wallet community on Telegram Follow us on Twitter Instagram Facebook Reddit