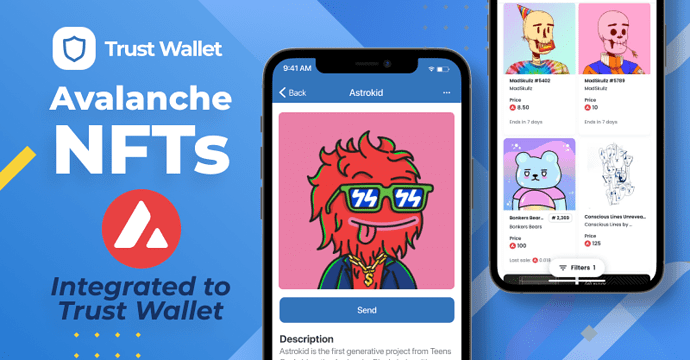 Avalanche NFTs are now supported on Trust Wallet!
Trust Wallet has added support for NFTs based on the Avalanche blockchain, giving users the ability to store, buy & sell all your favorite NFTs with a click of a button. Be sure to update your Trust Wallet to the latest version to utilize this update. This comes as OpenSea recently announced their support for Avalanche NFTs, meaning that Trust Wallet Supports all of the NFT standard supported by OpenSea* (and more!).
With support for 70+ blockchains and 8 million digital assets, Trust Wallet is a true multi-chain crypto wallet that allows users to safely store their crypto & NFTs and access the web3 world.
*Trust Wallet doesn't yet support Klaytn NFTs, but is coming soon!
Contents:
What is Avalanche?
What are Avax NFTs?
How does this new feature benefit Trust Wallet users?
Why store Avax NFTs in Trust Wallet?
1. What is Avalanche?
The mission of Avalanche is to provide a blockchain infrastructure that is scalable and flexible to accommodate any financial product, blockchain application, and service to deliver the internet of finance. AVAX is the native Avalanche token, which is used to maintain the security of the network with validator staking rewards and transaction fees. Transaction fees can be used for peer-to-peer transactions, contract creation, and subnetwork deployments.
Avalanche supports the NFT community in many ways, including:
Low-cost minting - With Avalanche's NFT technology, it's possible to create an NFT in seconds and only a few cents in expenses.
Security - Avalanche's virtually tamper-proof blockchain allows you to control ownership of your NFTs and prevent threat actors from falsifying transactions.
2. What are Avax NFTs?
Avax NFTs is a worldwide collective of creators, brought together by a passion for NFTs and the emerging web3.0.
3. How does this new feature benefit Trust Wallet users?
You can now buy Avax NFTs using your Trust Wallet
You now have the ability to store your Avax NFTs, send and receive them on your Trust Wallet app
Additionally, OpenSea has added NFTs from the Avalanche blockchain to its online marketplace
4. Why store Avax NFTs in Trust Wallet?
If you've asked yourself, "what's the best wallet for Avax NFTs?", then we've got you covered!
Trust Wallet has been downloaded and used by over 60 million people around the world to securely store and manage their digital assets. But it's much more than a crypto wallet! With Trust Wallet, you can manage NFTs, buy crypto, stake your crypto to earn rewards, access dApps securely, and explore the world of web3 without limitations.
Plus, with support for over 70 blockchains and 8 million assets, you'll be managing your Avax NFTs with a decentralized web3 wallet platform that's proven to deliver.