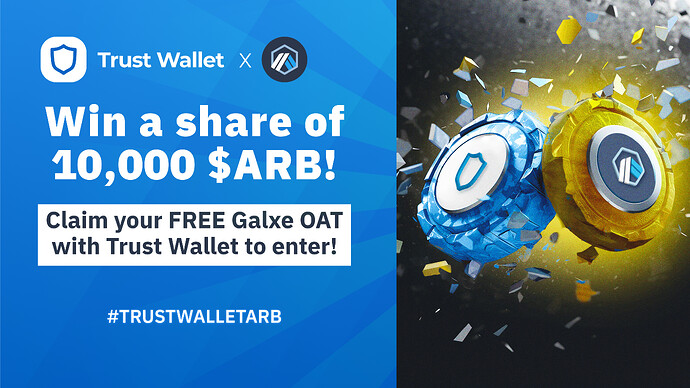 Join us on June 2nd, 2022, at 17:00 GMT+1 for a special campaign as we celebrate our support for the Arbitrum ecosystem. With 10,000 Arbitrum tokens in hand, we're hosting a fantastic 10,000 $ARB Token giveaway event in collaboration with the Arbitrum team.
Trust Wallet's Arbitrum Ecosystem Highlights
Arbitrum is a cutting-edge solution that enhances Ethereum-based apps and smart contracts by improving scalability, efficiency, and user experience. It enables quicker transactions, reduced fees, and a seamless experience on the Ethereum network.
Learn more about the Arbitrum ecosystem with our beginner's guide: The Ultimate Beginner's Guide to Arbitrum 3
Here's our main Arbitrum announcement tweet.
How to Participate in 3 Easy Steps:
Connect with Trust Wallet (please note that in order to be eligible for rewards, you must use Trust Wallet. Wallet addresses will be cross-verified, and using a different wallet may result in disqualification from receiving rewards).
Reward Distribution:
Among all Trust Wallet users who successfully claim the campaign specific Galxe OAT, there will be a total of 10,000 winners who will each receive 1 $ARB. Every participant has an equal opportunity to win.
Winners will automatically receive the reward in their ARB wallet within two weeks after the promotion ends.
Rewards are distributed on Arbitrum network
Good luck to all participants, and let's continue growing the Trust Wallet and Arbitrum communities together.
Terms & Conditions:
The Promotion will end on 8th of June 2023, 17:00 GMT+1
To qualify for rewards, users must complete all steps outlined in the announcement.
A maximum of 10,000 Galxe OAT claimants will receive 1 $ARB in rewards.
Winners will automatically receive the reward in their Arbitrum wallet within two weeks after the Promotion ends.
Each wallet address is eligible for a maximum of one reward only.
Illegally bulk registered accounts or sub-accounts are not eligible to participate or receive any rewards.
Trust Wallet reserves the right to disqualify any participants showing signs of fraudulent behaviour immediately.
Trust Wallet reserves the right at any time in its sole and absolute discretion to determine and/or amend or vary these Promotion Terms without prior notice, including but not limited to canceling, extending, terminating or suspending this Promotion, its eligibility terms and criteria, the selection and number of winners, and the timing of any act to be done, and all users shall be bound by these amendments.