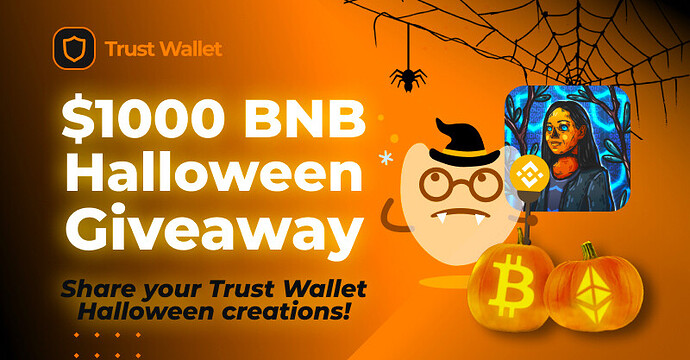 We want to see your best Trust Wallet Halloween creation!
Top prize $500 $BNB! (plus 17 runners up)
Trust Wallet is giving our users the chance to win a share of $1000 in $BNB for the top submitted Trust Wallet Halloween creations, to celebrate Halloween 2022!
Activity Period: 2022-10-24 14:00 (GMT+1) to 2022-10-31 14:00 (GMT+1)
How to enter:
Follow @TrustWallet on Twitter
Post a picture of your Trust Wallet Halloween creation and tag

#TrustWalletHalloween

&

#TrustWallet

Have Trust Wallet!
Don't have Trust Wallet yet…? Download here!
Top tips:
Get creative. Try carving a pumpkin or create some art!
Submit a good, clear picture for everyone to see!
Get your friends and followers to like and retweet your creation!
Make sure you use the hashtags.
Here are 5 Trust Wallet Halloween creation ideas for you to submit:
Trust Wallet Pumpkin carving
Trust Wallet themed fancy dress
Trust Wallet Halloween digital art
Trust Wallet candy creation
Trust Wallet spooky decorations
You can try any of these, or submit your own idea! There is no entry limit and you can enter as many times as you like, as long as your submissions are different.
---
Selection Criteria:
3 top winners & 15 runners up will be picked by the Trust Wallet team based on the criteria below.
Most amount of likes and retweets on the submitted creation (combined).
The best looking & creative creation - with the best picture taken!
Has completed all the entry requirements above.
Prize Breakdown:
1st place: $500 $BNB
2nd place: $250 $BNB
3rd place: $100 $BNB
15 runners up, each of which will receive $10 in BNB
Good luck!
---
Terms and Conditions for the #TrustWalletHalloween Giveaway
We may use your submission image either in this giveaway, or for any other of our social or marketing campaigns
Distribution will be made directly to qualifying participants' Trust Wallet BNB addresses within 30 days of the activity ending. Please ensure you supply us with the correct address. If you supply us with the wrong address, you will not be able to alter it after and your prize will be forfeited.
Maximum of 1 distribution of BNB tokens per Trust Wallet address.
Trust Wallet reserves the right to disqualify anyone who is deemed to break any of the above rules or act with malicious intent.
Trust Wallet reserves the right to cancel or amend any Activity or Activity Rules at our sole discretion.