Pls which wallet is trust wallet BNB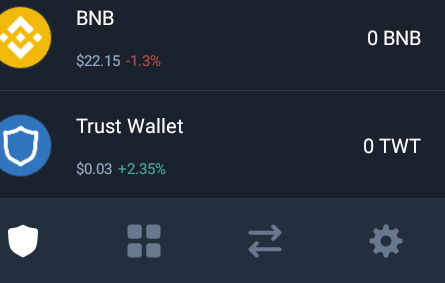 They are both the same addresses, just the identifiers differ
it's the same; to check it click both and check "receive" and you'll see it's the same address.
Okay thanks

I appreciate
Salut je suis nouveau utilisateur
Both are same address use any one
it's the same. You can to use anyone
it the same but you can choose the BNB
Same…they just belong on same blockhain
Bnb is main chain and twt it's a token on bnb chain
BNB address that's what is required of you.
Your bnb wallet bro click on it copy the address n reply to the message you received. Do it before two day so you can get your reward.
They have said to send BnB address. But both address is same…
In a wallet, the BNB and TWT addresses are the same, because they use the same blockchain. But the blockchain system can tell the difference when you send or receive BNB and TWT.
But does not apply on exchnage, make sure if the TWT transaction is on exchnage, don't forget to enter the memo too
All bnb address are known as binance folk that's the reason the addresses start with a bnb…numbers meaning they are beb2

Yeah! I also checked and found out that both are having same address i.e trust wallet BnB address and trust wallet token twt address, but I suppose to make it clear for someone who, for example does not have TWT address on his/her list of coins/ tokens that shows on his/her dashboard by virtue of not having participated before in any airdrop or haven't been rewarded by trust wallet before, if we have such person, of course among the selected people now to be rewarded for being an active member of the community by team trust. And, they now say, submit your TWT address within the next two days of this congratulatory message or stand the chance of forfeiting the reward. You can imagine the kind of truama such person would be going through. Hence, the reason why the team trust has asked that the lucky selected ones should submit their trust wallet BnB address so as not to pose any confusion. And again, thank God for the community who is always ready and waiting to attend to every question brought before her.