why does this end down continuously
Because you know Volatility makes money.
Because of Binance and Coinbase. Yesterday, both exchanges had technical issues regarding BTC and Eth transactions and due to overload their systems failed. Stop losses failed and people incurred heavy losses. This caused a 'Flash Crash' and panic selling, following which the whole market panicked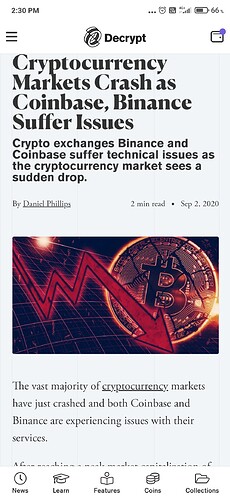 Very much so…coupled with the seizing of Bithumb by the police.
I really hope all these would be resolved especially the technical issues of these top exchanges
It's normal it will soon stabilize it happens often when it heals it pushes way pass it's resistance line.
Better i put my a stop limit in 12k, i just get lucky


Longed at 11560 60x leverage
Now was drop again what must i do
I hope that one of the reason this is the second time along with coinbase and binance crash
Does anyone know why it does not let me make btc transactions from the trus wallet, it appears (error in the transaction)
tangos some btc in my trus and it won't let me send them anywhere
A Bloody Market… hope it will rise again
Too much scams defi maybe?
A lot of BTC moved from wallets to central exchanges creating panic amongst investors that they may be up for selling. It created selling pressure and thus one of the reason for market falling. Market hadn't recovered from the recent flash crash and then this happened making the whole market go red.
This is a wonderful time to buy alts and to get a good start. Don't miss this opportunity

Trading is a risk so tread carefully
the 'whales' did it and they are in control

Time to buy crypto guys,



Not only btc but all cryptocurrencies.
I want to crying for dump


بازهم افت داره بازهم شک بزرگی درراه به نظر میرسه شکی که هیچ کس پیش بینی نکنه و