Im glad and Im interested on this community. Cheers to all dev and admin.
Congregation.
Your highly welcome.
Stay active in Community, read, post , like .
Welcome to the community. Level up even more by participating actively in the forum, add value with your content, remain consistent, and help others learn.
If you are in basic means your level 1 right? @Dustys22
Dear Trusteer,
Welcome to the community!
Congratulations on your new level.
Just be active and keep on adding value to the community. We're here to learn, unlearn and relearn.
All these will bring promotion your way.
Thanks!
Good explanation for ud


where i can see my level?
Click your profile on the topright corner of this forum, then click your username and then summary
when summary page opens, you clock 'expand'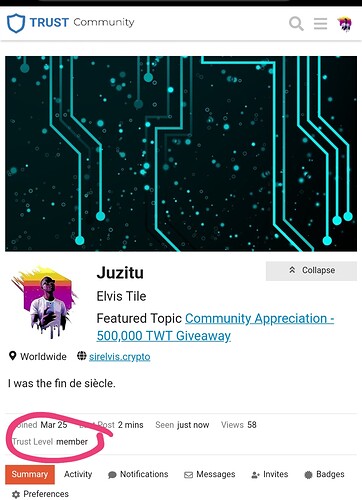 Very Cool, The Trust Wallet Community is a very good thing.
Congrats! I am also new to this community, slowly exploring

Hi everyone! I'm glad to be a part of this community! I'm looking forward to reading and opportunities to learn more!
System will notify if you level up
@Juzitu Thanks. Im a basic user. Cheers
Congratulations buddy, stay active to reach high level