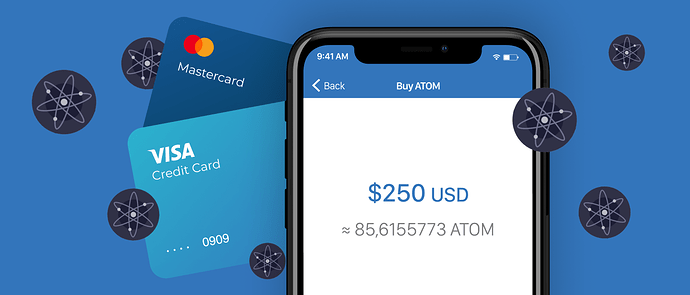 We love to make it easy for you to buy your crypto. That is why we are excited to bring you support for yet another option: Cosmos (ATOM). You can now purchase a total of 8 Coins through our Wallet, including Bitcoin, Ethereum, BNB, and XRP.
To buy crypto, add the Coin to your wallet and look for the "BUY" button. DONE!!
But it doesn't have to stop there. Once you buy your ATOM, why not try to stake some on our staking platform? And if you don't know what staking means, this great article by Binance Academy has you covered.
What are ATOM's?
ATOM's aren't mined. Instead, they're earned through a hybrid PoS algorithm. The more ATOM is staked, the more likely it is to become a validator node to validate a transaction and earn tokens, though it is also possible to delegate your tokens and receive a portion of the rewards through the Trust Platform .
Making cryptocurrency and our multi-asset wallet as easy-to-use and accessible as possible is our mission. Our portfolio already supports Bitcoin, Ethereum, Litecoin, Tron, and other digital currencies. Adding more buying options for crypto is another step in this direction.
You know your funds are safu when you are using Binance's official user-controlled Crypto Wallet, Trust Wallet. Trust allows you to store and stake your crypto assets and interact with DApps and Decentralized Exchanges in a non-custodial way.