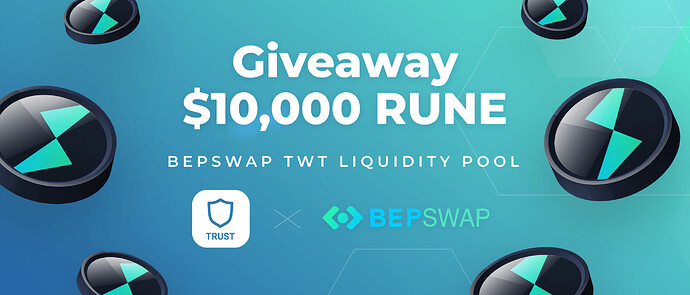 The Trust Wallet team is happy to announce we are working with THORChain to offer users an ability to earn yield on their BEP2 TWT by providing liquidity into BEPSwap.com.
BEPSwap is a "Binance Chain Uniswap" built using THORChain technology.
Liquidity providers can add liquidity (RUNE & TWT, or just TWT) to pools to earn on liquidity fees and incentives.
Traders can arbitrage between pools and Binance DEX in order to capture market inefficiencies and make money.
Users can swap between assets by simply making transactions into the pools.
Learn more about BEPswap in this Thorchain Medium post.
In order to enter you will need to add TWT liquidity to BEPSwap. Learn how here: How to Stake and Swap on BEPSwap
How to enter
Mandatory Rules:
Follow @TrustWalletApp & @thorchain_org
Add TWT liquidity on BEPSwap
Additional options to increase your chances are available when you enter:
Contest ends: 11:59PM 12th November 2020 (UTC)
250 winners, who have completed the mandatory steps will be picked at random. The RUNE will be distributed by Thorchain within 7 days.