Me tooo, idem
Same issue…how i can do?
Please help me!
It has nothing to do with our cell phone. Mine is brand new and I have updated the Trust Wallet yesterday like we've been asked to. The redelegate option and unstake option are not working, it just shows : not available
what should I do with Pending Delegations (Ararat)? I can't withdraw it yet after 14 days. Please help
what should I do with Pending Delegations (Ararat)? I can't withdraw it yet after 14
days. Please help
Hi
1- update your app
2- change your delegator (Redelegation)
3- withdraw your stake
4- wait for 7 days
I hope work
İs not American dollar (usd), is Australian dollar (AUD), you can select another currency from TW menu , bnb to AUD is upper 300 dollar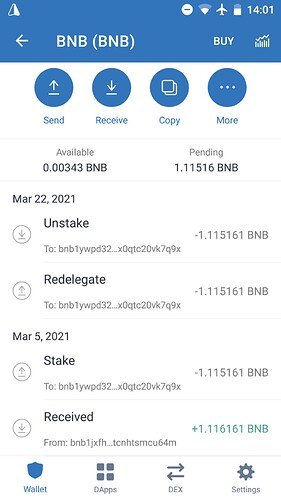 I staked 1.11 BNB from 05-March.It was bocked.
And On 22-March, I delegated to TW staking, withdrew my stake as you said.
Now, 29-March, more than 7 days, and my BNB is still pending.
Can't believe it!!!
Do not worry bro. I need to wait one more day and everything will be settled for you. Thanks in advance. You will get your money back pretty soon. Thanks for understanding!
The BNBs that you processed for unstaking are already available in your wallet. Check it again.
I received it. Thanks.
And never dare to stake in Trustwallet anymore!
For your information, Trust Wallet is not in charge of unlocking your BNBs. The Binance Chain itself is the one that is processing it. Anyways, glad to know that it's already available. Cheers~
@iamdeadlyz I unstaked my bnb for over four days now and it's still pending. Why is trust wallet so horrible. First, it was the staking with decommissioned validators and now even to get my bnb is now problematic. Kindly help me process this,I'm tired!
Hello Sir. All you need to do is wait. Just wait 7 days and you get your bnb coins back in your wallet! Good luck on your mission!
Hi @Donwalte, to clarify, the validator being decommissioned is not Trust Wallet's fault. It is the operator of the node validator who is responsible for such a thing. It was also discussed here:
Also, the unstaking period being 7 days is not Trust Wallet's fault. This is how the staking mechanism works on Binance Chain. Please do your due diligence.
Is this been resolved? For some reason 2 months latter I have the same issue
I have my BNB staked with Validator "C.R.E.A.M", today I dont see this validator at all. They don't exist as active nor inactive and does not appear in redelegate as well.
Home page shows all my BNB coins but staking page does not. What shall I do ?
I have the exact same problem
The amount of bnb that I have haven't changed
But I can't found the amount that have been staked in c.r.e.a.m
Same has happened to me,I'm not sure if it was cream but it might of been. 0 bnb staking yet in my wallet I have 1bnb staking, can't redelegate can't unstake.
I also cannot find my Staked bnb in C.R.E.A.M Is it gone ? or will it be fixed ? as its just a glitch currently , hoping my 5 bnb isnt gone from that pool

hey , what happens if the validator is removed ? cant find it in the non current ones as well , hoping my bnb i had staked in their isnt gone forever now