They released an update today. I assumed that was it, it said update for cosmos chain…
still not working and the kava rewards will expire in a week if i don't claim them…
I see. In that case, please wait for the dev team of Trust Wallet to release a fix. They are working on it right now,
That's what I'm saying. They released an update yesterday saying it had fixed problem with cosmos chain. It didn't work.
Any update on this issue when approving transactions for KAVA and HARD Token?
Error during Broadcasting:
unauthorized: signature verification failed; verify correct account sequence and chain-id
I still can't do anything. Also there's no app within the trustwalletbrowser for kava, so this solution doesn't help either.
6 days still my first kava claim expires - fix this NOW.
this really doesn't rise my trust in this wallet…
Still getting this error when approving Kava/Hard transaction even i updated to latest trust wallet app version
Pls. Help…
Pls… help… still getting this error when signing/approving KAVA transactions even already updated to latest trust wallet version. 5.15(5154)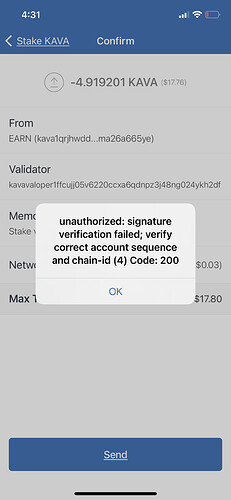 Thank you for letting us know. Your feedback has been relayed to the dev team and they will investigate it further.
do you need my KAVA address…
Please send it as well. That would be very helpful in troubleshooting.
kava1qrjhwddw9778hm4asahc6vdnw336ma26a665ye
here's the address
kava1qrjhwddw9778hm4asahc6vdnw336ma26a665ye
Thank you, @aweSam. The dev team is currently communicating with the Kava team now.
@iamdeadlyz… any update on this issue… i need to transact in my HARD KAVA app?
Double-checking, what is your Trust Wallet app version now? (open the app, go to the settings of the app and press "About", take a screenshot, and attach it here)
@iamdeadlyz see screenshot below…