Any update on this issue when approving transactions for KAVA and HARD Token?
Error during Broadcasting:
unauthorized: signature verification failed; verify correct account sequence and chain-id
I still can't do anything. Also there's no app within the trustwalletbrowser for kava, so this solution doesn't help either.
6 days still my first kava claim expires - fix this NOW.
this really doesn't rise my trust in this wallet…
Still getting this error when approving Kava/Hard transaction even i updated to latest trust wallet app version
Pls. Help…
Pls… help… still getting this error when signing/approving KAVA transactions even already updated to latest trust wallet version. 5.15(5154)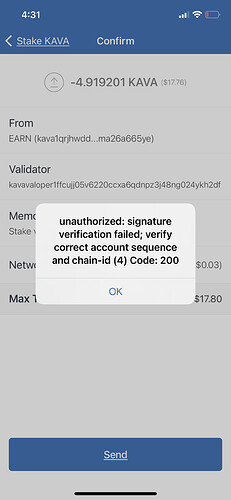 Thank you for letting us know. Your feedback has been relayed to the dev team and they will investigate it further.
do you need my KAVA address…
Please send it as well. That would be very helpful in troubleshooting.
kava1qrjhwddw9778hm4asahc6vdnw336ma26a665ye
here's the address
kava1qrjhwddw9778hm4asahc6vdnw336ma26a665ye
Thank you, @aweSam. The dev team is currently communicating with the Kava team now.
@iamdeadlyz… any update on this issue… i need to transact in my HARD KAVA app?
Double-checking, what is your Trust Wallet app version now? (open the app, go to the settings of the app and press "About", take a screenshot, and attach it here)
@iamdeadlyz see screenshot below…
Try to transact again. If it still won't work, contact the admins or dev team of Kava so they can investigate the issue.
@iamdeadlyz You said previously that Trust wallet dev is looking into this issue? Are you really in communication with Trust Wallet support team? thanks
5.15 version should fix the said issue. However, since you are still encountering errors, the dev team have suggested that you should reach out directly to the Kava team.
@iamdeadlyz Can you verify if this could be an issue with Trust Wallet and Frontier Wallet integration…I just tried using Frontier Wallet as Front-end app for my KAVA token stored in trust wallet, i was able to successfully sign/approved KAVA transaction by initiating it in the Front wallet but still signing/approving the transaction in my Trust wallet. The issue now is why i can't transact successfully directly using my trust wallet and not going trough the Frontier Wallet which is working previously.
But i can't do the same with HARD related transaction because FRONT Wallet do not support HARD protocol. So still can't do anything with my HARD transaction in my Trust wallet the same issue.
Looks like this is an integration issue with TRUST and and FRONT wallet. Pls. verify this with trust wallet support team… thanks