@Soniauk Kindly send the transaction hash of the missing token as a plain text.
Hello,
I make a wd order Luna from binance.
This is the txid
B068CF3D7B1EEC8FA56B5E28A9DCA595FDBE4F8153FE575084ECA0153D23A319
I see my Luna has been success. But there is nothing in my wallet.
Please support!
Thanks,
@jimmy8 Can you send the full transaction ID in a link format ?
---
Ok i found what happens. The token has been transferred to Luna Portal …I'm sure i made tge exchange to Terra Luna …is it the same token ?
0x7743994c22b91d88f4085474dE458Bba00D4d120
@Soniauk Your tokens are in your wallet and you only need to add it manually as a custom token using these details
Network: Smartchain
Contract: 0x156ab3346823B651294766e23e6Cf87254d68962
Decimals: 6
I can't adding a link. Please visit finder.terra.money
How to input a link in here?
@jimmy8 Hello!
Please note that the Terra network is currently experiencing issues. Thus, the correct amount on the balance and transfers may not work correctly.
As long as the assets are confirmed in the blockchain, your cryptocurrencies have safely entered the wallet.
I can see the token is in my wallet but what i dont understand is why it is under Luna-BEP20 and not under Terra Luna coin ? See screenshots.
Will it be ok if for exemple I want later to send to another Luna wallet in Crypto.com for exemple?
Or is there a way to transfer from Luna-BEP20 to Terra Luna coin ?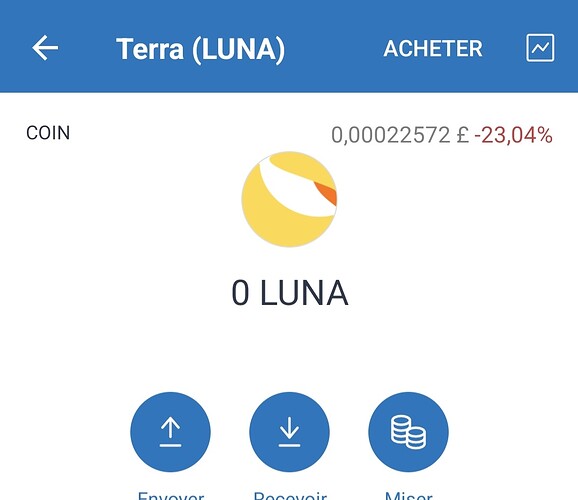 @Soniauk You made the swap through the Smartchain network on Panckaeswap which supports just BEP20 swaps hence why your LUNA is on the BEP20 network.
Can you help me ? I've sent Terra Luna tokens from ftx exchange to my wallet. It's been 2 days. Transaction is completed but I do not see my tokens. This it the hash:35E3A356B87C91567979A819B241717D73BCC4BF003F0FE51528E8F001B00802
receiving wallet:terra1s2754a54zvaaqx8hlmvqjfqrwf47qqjatlqdvl
I have transferred my UST (Terra USD) coins from Binance to Trust wallet via Polygon Network, but the coin didn't arrive or was stuck somewhere in the middle. Transaction status is completed. I have contacted Binance. They said we are all clear we have sent coins and now it cant be stopped. Contact your receiver service support team. Kindly look into this matter and resolve it as fast as possible.
I have rechecked all addresses and the information is correct.
Token name: UST
Receiver Address: 0x69Ea86D0f6B762fC36A322b0C833D2bd04534b3d
Tx id: 0x28024994da127fab965b11df969c174542dbf508f54d92f1c901c6a2bf9fde51
Help me out please!
@anaskhuwaja Your tokens are in your wallet and you only need to add it manually as a custom token using these details
Network: Polygon
Contract: 0x692597b009d13C4049a947CAB2239b7d6517875F
Decimals: 18
hello good day can you help me i sent luna coins from tokocrypto to trustwallet but my luna balance is not showing at all
Order ID 3736597
External Transfer Method
txid: 6AEE167C95FOE4C97D0D0558E4D99B449E46EBD2644985448ABCDCA2BE067D47
address; terra1f3c5aagx9q0qmnl0xk2ma04epu9ycc8 m6ss4te
2022:13-05-17 10:244
my trustwalet version : 5.9
txid:
B461D8E70EEB5BF8D0A8AF6803ADF88577817436269CDBE82B95E5F12F6455C8
to address
terra1zaf69qzmqvdfvh7fkg03ugnuqm44dsse50ue9h
from address
terra174pe7qe7g867spzdfs5f4rf9fuwmm42zf4hykf
https:// finder.terra.money/mainnet/tx/b461d8e70eeb5bf8d0a8af6803adf88577817436269cdbe82b95e5f12f6455c8
@romsuu Please read my response just above your post.
---
Hello, bitcoins was sent to my wallet but I haven't received it for some hours now
Hello. Two weeks ago, I purchased $2,000 worth of BNB Smartchain through moonpay. According to moonpay, the purchase went through to Trust Wallet. I have contacted [email protected] multiple times and continue to have my tickets closed without receiving the crypto. On 2 occasions, I called 858-380-5869 and was asked both times to fill out a form including my 12 word recovery phrase. I have deleted the application and reinstalled it and logged out and logged back in multiple times. Please help.