Am yet to receive d Usdt($173)
I sent to my BNB Bep20Sc wallet address since yesterday.
ㅣam repeating again as explaied below.
BNB was sent to Trust Wallet, and transaction was successfully done. And then I did't do any further action. But, account was missing(no change/increase).
Please resolve it.
1.Txhash :
111EECEE25BF4E6B3D583C7911C60A015F664ACC7DA31A86716009CDADC07930
missing balance: 0.20604458 BNB
3 wallet address:
bnb1vk35w6azwe620chr6vu9mw00cx82fx0hvt99mv
@ivanpenkov The ETH is on the smartchain network and in your wallet as Binance pegged ETH therefore you need to add it as a custom token
@Diva1
To better assist, please send the following information:
Trust Wallet app version (open the app, go to the settings of the app and press "About", take a screenshot, and attach it here)

Crypto wallet address (press the receive icon near the send button, take a screenshot of the QR code, and attach it here)

Transaction hash or link (if you have any, please copy and paste)

Screenshots of the wallet (including errors or missing balance)
Hi there,
I also sent small amount of eth from binance and on my mobile i received the notification but after that on my wallet eth is still zero
Version 2.10
Receive code 0xFCFec115D636280a9c35993C02D98e97f83Ee2a3
Txid 0x643a19bc0bfeef8a2f5a41fcb6841c63f1955d573494944ad7d6b0b5e18b6bf8
Amount of eth in my wallet is still zero
Thnx
Hello @Melekyaylali
Your ETH is in your wallet as Binance-pegged ETH and you need to add it as a custom token
Thnx for the support
Added it to my wallet .
Now the process is clear for me
Hello,
I have transferred ETH from Binance to Trust wallet via the wrong network, BSC. So now, I dont see anything in my trust wallet.
Please help me recover my crypto.
Trust wallet version 2.11

Wallet address - 0xE6a8B74A74aF130781D51E2328AE483C5347bB5C

TXD ID
0xd09110b82eb57380f1014f1005baadb1f8fadf147b3d96c3ecd95050917ff15d
Appreciate your help on my first ever crypto transfer.
Thanks,
Ananth
Hello @Ananz
You have received your tokens on the bep20 network and you need to add it as a custom token
See guide below:
Hello,
I have transferred BNB to Trust Wallet, however I dont see the ballance on my account. Here are the details:
Trust wallet version: 6.9 (697)
The receiving address is 0x29cd6Ba9Ad197f374843A19464Bf1EAc46592849
The transaction code is 0x449328b76827a7a9d27c4288fd64ed3fcb1cd755c57ffe42fc09ee2ab031209c
It's been already 24hours and I haven't seen the balance on my account. Hope you can resolve it. Thank you.
@zarefeggsy1390
Where did you withdraw from?
Your transaction hash shows no history of any sent or received crypto
Hi Jenny,
I transferred it via INDODAX. It's shown as successful transaction in the history yet I haven't received it on my Trust wallet account.
Dear, Sir
Let me know the progress!!!
I didn't do any action after successful transaction from Binance to trust wallet as I submitted already.
But, transferred BNB is not being shown up on my trust wallet account until now.
What is my fault? It' clear this is system error.
So, you have to solve this problem.
What kind of additional information you need in order to solve this problem.
Dear Sir,
As I repeated again, I have never transfer BNB to another address after receiving BNB from Binance.
That's why I am asking you to check.
If then BNB were transffered to another address, how can I withdraw to my trust wallet.
I confirm you that I have never transafer BNB from trust wallet, it was disappeared in spite of myself.
Let me know the way in order to withdraw from the address below sent.
I don't know where this address is.
0x7f5bd80ea74515ee62884ffc2b53c532b56ae7ab
@wtkim72 Here are the possible reasons:
You shared your 12 words (via phishing, social engineering, etc.);

You saved your 12 words in a very bad place;

Your device is corrupted with malware;

Someone had physical access to your device;

You entered your recovery phrase on a fake/clone app.

You transacted with a malicious DApp.
Unfortunately, confirmed transactions at blockchain are irreversible.
Please read and understand this:
https://community.trustwallet.com/t/my-recovery-phrase-has-been-exposed/22405
Learn more about how to protect your cryptos and new wallet:
I understand you are not helpful for me anymore.
I didn't share 12 words with anyone!!!
Dear. Sir.
Somebody from trust wallet sent me this kind of email, who said he can take an action to solve my problem.
Is it right?
< quote >
The security is to ensure only you can perform a transaction on your wallet.
To proceed further, I will need to access your wallet statement of transactions on the database and for this, your 12 mnemonic phrase is required to identify your wallet.
You'll need to be online to confirm when this issue have been rectified.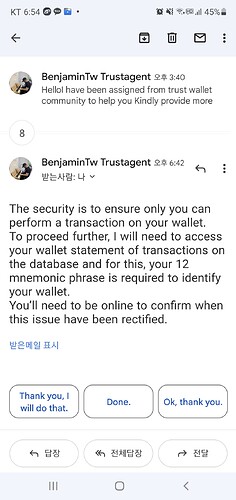 Do I need to provide my phrase password to your agent Benjamin to be able to help me solve my issue to retrieved the lost transactions
@wtkim72 @Arlene2020 no real support will ask for 12 words recovery phrase. We will never do that. Beware of scammers.