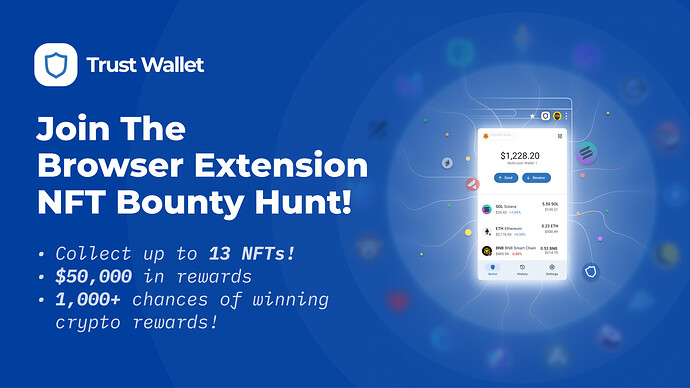 The Bounty Hunt continues!
#TrustWalletNFT
We've organised a bounty hunt with our 13 Bounty Hunt Partners! But, this isn't just any bounty hunt.
You'll be trying to collect all of our Launch Partner's NFTs! Collect at least 11 out of a possible 13 NFTs to be entered into the final grand prize pool!
Here's a roundup of what you should expect over the next 2 weeks:
13 x Bounty Hunts
13 x NFT rewards to claim on 2 different chains (Polygon & BNB)
13 x prize pools (one for each bounty hunt) $30,000 total rewards!
Rewards in 10 different cryptocurrencies! (including $TWT, $BUSD, $BNB…)
Plus… one final prize pool for users who have collected at least 10 of the NFT bounties!
Over 1,000 chances to win a crypto prize!
$50,000+ of total rewards
How does it work? and what is the Bounty Hunt?
1-2 bounty hunts will be released per day over 7 days - 13 in total! We will share the links on Twitter & also update the links to ALL the bounties on this page as they get released. The Bounty Hunts involve collecting NFTs and entering the giveaways by completing certain tasks! - scroll down for the links and release dates!
Every single bounty hunt will have a FREE NFT up for grabs, plus the chance to share between $2,000 - $3,000 in crypto rewards!
Complete all the bounty hunt tasks to claim your NFT for that launch partner and to automatically be entered into that giveaway. There is $33,000 of crypto rewards up for grabs at this stage! The tasks will be outlined on the bounty hunt page linked.
---
ENTRY TO THE FINAL PRIZE POOL:

Each of the NFTs you claim from the bounty hunts, goes towards entry to the final prize pool! You need to collect 10 or more, out of the possible 13 NFTs up for grabs to be eligible for entry!
---
How can you participate?
Step 1: Collect the NFTs using your Trust Wallet Mobile!
Step 2: Complete the tasks required to claim each NFT. Be sure to collect as many as you can!
Step 3: Collect 10 or more to go into the final prize pool! The more you collect, the more rewards you have the chance of winning!
PLEASE NOTE 1: You will be asked for screenshot proof of your bounty hunt NFT in your Trust Wallet if you are a chosen winner of a crypto prize. Be sure to enter correctly using your Trust Wallet!
Collect ALL of our Partner Bounty Hunt NFTs here!
You MUST connect and enter with your Trust Wallet to be eligible for Crypto rewards.
When you tap on the entry partner below, connect to Galxe like so: Connect > Wallet Connect > Trust Wallet.
The NFT bounties will visible in your mobile wallet, and to be eligible for crypto rewards, you'll need to download and setup Trust Wallet Here.
Terms & Conditions
ALL bounty hunts will end on the 16th December 2022 at 12:00 UTC!
We reserve the right to disqualify anyone who we believe to be cheating or claiming unfairly
Crypto prize distribution may take up to 3 weeks from campaign period end