"TL;DR"
March Referral Rewards has been sent.
Activation of referral codes for majority of users.
Minimum 500 TWT requirement before distribution.
Stricter guidelines for April referral rewards.
Distribution Completed!
Just a quick announcement to all our loyal Trust Wallet users.
The March Referral Rewards has been distributed to almost 65,000+ addresses.

The transactions can be seen thru
Binance
Chain Explorer.
It can all be checked here:
https://explorer.binance.org/asset/TWT-8C2
There have been a lot of changes since we first announced the
promotion
. We had to make a hard decision in order to cut down some fake referrals. Necessary changes to the screening of user activity and distribution rules has also been implemented.
Your Referral Rewards Status
Once you have received your rewards, the app will reset your counters back to zero (0). And if your code is Active, then you can already start referring more users for the month of April.
Some users may see the following instead:
If your status is Banned, you are not qualified to receive any rewards.

An Inactive status means you are still eligible for rewards but further referrals will not work for you. It has been explained on this article how to Activate Your Referral Rewards.
Ask yourself these questions:
"What have I done after referring someone to Trust Wallet?"
"Have I actively helped the Trust Wallet community grow?"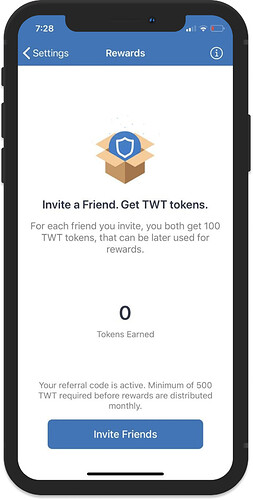 Why are my Rewards Not Sent?
There will be a lot of users who will be affected by this. And here is the explanation for that. For users who did not get at least 500 TWT, the tokens will not be released. Your rewards will remain on your account until you reach the minimum requirement. Continue accumulating your referrals and your rewards will be credited to you by next month.
New Rules for April Referrals
Only those with Active status can do referrals.
There will be limits on how many you can refer in a month.
Stricter screening on the usage of referral links. IP restrictions will be set in place.
We highly discourage posting of referral links in Airdrop groups, as these are considered spam.
Unconfirmed information such as TWT price value or even Exchange listings will not be tolerated.
Request to activate referral codes will be ignored.
Failure to comply with the rules of the promotion will get you banned.
Disclaimer:

Trust Wallet team reserves the right to change the terms of the referral program at any time due to changing market conditions, risk of fraud, or any other factors we deem relevant.