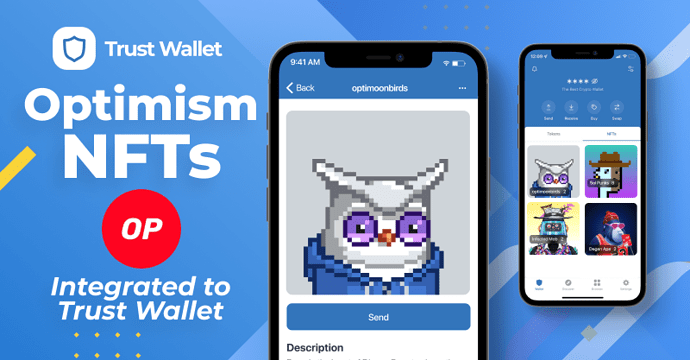 Trust Wallet now supports Optimism NFTs
We're happy to announce that the Trust Wallet development team has successfully added support for NFTs hosted on the Optimism network. This means you'll have yet another easy way to store, buy & sell all your favorite NFTs directly within your Trust Wallet. Be sure to update your Trust Wallet to the latest version to utilise this update.
Don't have Trust Wallet…? Download here: Trust Wallet App
What is Optimism?
Optimism is a next-generation scaling solution for Ethereum that enables blockchain applications to be built without sacrificing decentralization or security. Optimism uses state channel technology to move transactions off-chain, allowing for near-instant, low-cost settlements. When combined with Ethereum's smart contract platform, this provides a powerful toolkit for developers to build world-changing applications.
Does Optimism host NFTs?
Yes, you guessed right! The Optimism ecosystem also hosts digital collectibles and has its own NFT marketplaces and NFT projects. Due to it being a second layer solution, NFT transactions on Optimism are much faster and cost-effective.
How does this feature benefit Trust Wallet users?
You can now view Optimism NFTs in your Trust Wallet
You now have the ability to store your NFT collectibles, send and receive them on your Trust Wallet app
Why use Trust Wallet?
Trust Wallet is an easy to use, true multi-chain noncustodial wallet, which allows you to store and manage over 3 million crypto assets including NFTs across 68+ blockchains. No more storing your assets across multiple custody wallets or exchanges! You'll have peace of mind knowing all your assets are in one safe place.
Your private keys are stored on your device and your assets on-chain meaning you are in full control at all times. Trust Wallet gives you the ability to natively buy, swap and stake your favourite crypto without having to leave the app and also connect to dApps with the in-built DApp browser.
Trust Wallet is used by over 50 million people worldwide!
Useful links
Website: https://www.optimism.io/
Twitter: https://twitter.com/optimismFND
Github: Optimism · GitHub