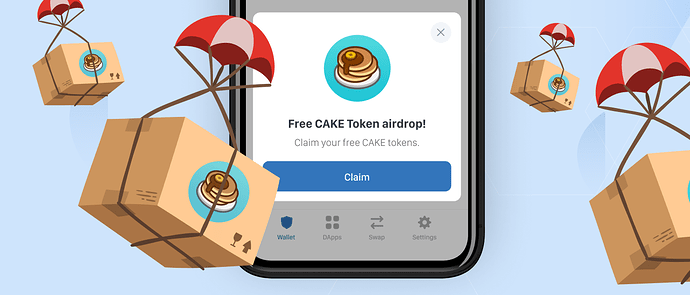 Our Bunny Chef friends over at Pancake Swap are giving away a plate full of pancakes worth more than $100,000 USD to the Trust Wallet community.
Submission closed at 17:30 UTC, Friday October 9 2020. Airdrop will be made within 30 days after submissions close.
CAKE is the native token of PancakeSwap, the #1AMM on Binance Smart Chain.
The Flippening is real, and it's going to be covered in Syrup.
Have the chance to stuff your wallet with free CAKE by following these instructions:
Go to https://pancakeswap.finance in your Trust Wallet DApp browser. Make sure to select Binance Smart Chain Network (in the top right hand corner of the DApp browser)
Make a new transaction on Pancake Swap
Note down, or copy paste the Transaction ID/Transaction Hash
Fill out the form (Giveaway Closed), letting us know your Trust Wallet Binance Smart Chain address (make sure it's the Binance Smart Chain address that you used for the transaction on Pancake Swap) and the Transaction ID itself.
Only one address per device is allowed. If you use more, you will be excluded
Your wallet must be older than October 7th in order to qualify
All transactions must be done with Trust Wallet
If you've never used Pancake Swap before, and you want to learn how to make a transaction then follow this short guide here.
The Prizes
The giveaway is going to be half first come, first served and the other half of the giveaway will be a lucky draw.
That means:
The first 2,500 people to make their transaction and submit the form will win 46 CAKE each
Another 2,500 people will be picked at random to win their 46 CAKE.
That's more than $100k of CAKE. Go flip yourself.