Can I only buy a minimum of 250 dollars worth of eth to transfer money to another wallet?
Hello, I tried to send money to another wallet and the transaction is on hold since hours now. It says that the blockchain trail is not available. Can you please help me? Can I cancel and redo?
What is the transaction ID?
Here: https://etherscan.io/tx/0xab48d47ccab69ca8fd487abcaae1c3cb2ce870433829790b40626cf66a4e78f2
But we canot see anything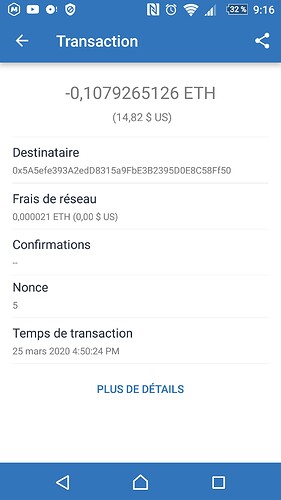 OK I Will try that and let you know
Thanks
Thank you very much you are the best

. Thet only thing is that I do not know how to delete the old wallet
Hello please help me restore my wallet I forgot the secret phrase please please help
Hi
I cant send my ETH to another wallet.
Why i am waiting like 3 hours
Здравствуйте! попробуйте приложение удалить и заново скачать и попробовать снова отправить.Мне вот такие манипуляции помогали.
Zach, I am very new to MEW and this forum but I could see that you help solving a lot inquiries. I downloaded MEW and I would like to exchange BTC for DRGN and CND on coinbase. I can't see the option for either coins on MEW. How do I add DRGN to MEW and generate the wallet address? Please help of possible. Thanks.
For issues with MEW, please reach out to their team.
For exchanging BTC, this can only be done on centralized exchanges.
I have been having issues sending Etherejm from my wallet.
Hi:
Could you please help me send i9c to another account?happened this,what is it?and how i resolve it?,thanks!see the image below thanks http s://postimg.cc/BXnFFLkK
A bit more details about the issue could help us understand your concern.
Are the pending transactions showing anything when you tap on More Details?
If Yes, follow this guide: Pending "Stuck" Transactions
If No, use this one: How to Re-Import your Wallet
To better assist, can you provide us the following information:
Trust Wallet app version
Crypto address
Transaction ID (if you have any)
Details about your issue
Screenshots of the wallet (errors, if any)