@mike1234567
Please avoid duplicating posts, you were already responded to.
I am having problems with my tokens not showing. Yesterday, I deposited USDT and received a notification about my USDT being accepted. However, when I check at my wallet, no USDT has been acknowledged
@LegendaryKana
To better assist, please send the following information:
Trust Wallet app version (open the app, go to the settings of the app and press "About", take a screenshot, and attach it here)

Crypto wallet address (press the receive icon near the send button, take a screenshot of the QR code, and attach it here)

Transaction hash or link (if you have any, please copy and paste)

Screenshots of the wallet (including errors or missing balance)
I have managed to receive it already after a few hours. If I may ask, how long does it take for the wallet to register a transaction?
I transferred Matic from my coinbase to my Trust Wallet Matic 3 days ago, But it never showed up. It shows as completed on coinbase
Transaction Hash:
0x2b6c0a0ced4b811900a384f478e15ea07a8dc9ecd6648766607a5f1d13227881
App version 6.12 (6129)
Trust Wallet address
0x67573F2cD1e7fde79f94Ec02441bb2C46A34cDb0
I followed the steps, deleted my wallet and reimported it. Nothing has changed. Please help, thank you
@LegendaryKana
That would depend on network congestion and also the gas fees used when sending.
Hello @Jforouzandeh
Your tokens are in your wallet and you only need to add it manually as a custom token
Tap on the upper right corner in your wallet, search MATIC and enable the one with BEP20.
I am having the same issue but I don't know how to read transaction hash to see if it was redirected.
My wallet address is: 0x5be5b647d69fb0d43081df2b252c82426e7feca8
Transaction hash is:
0x33db3ead61e8f6003824974c76d3a2fd264c9945548dae1ccf069878cbd53f46
I performed the transaction on pancake swap so I'm guessing that means I wasn't using the real pancake swap?
Hello guys!
Can someone send me 0.001 Kcs on Metmask at 0xe2e40128b61b742eDF925a8eE676D05D31415009. I need for gas…I sent via kcc usdt and now they are blocked…
Hi, I have a simillarissue, my coins are not showing in my trust wallet
ETH wallet: 0xEd065a37685FAF0b9D8ff5703DfDF067C6c3dD36
Txid: 0x7b2c00b8c402972a6ccd2114325eda47c4545c9e914c8a5290017a9ea15fdb59
To be able to view it, please tap on top right corner and search Ethereum token then switch on Ethereum token BEP20 manually. This guide can help too: How to Add or Remove a Coin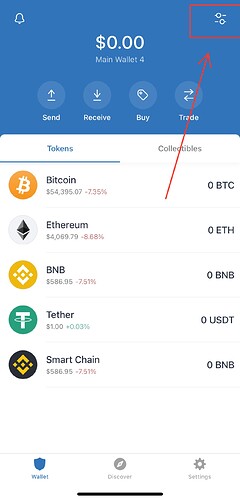 A follow up to my problem before. I tried swapping my USDT to BNB smart chain using the swap feature. After days, the swap did not reflect and it ate my BNB