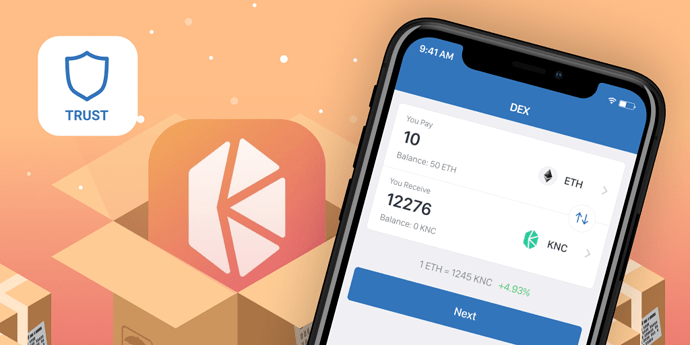 With the integration of Kyber Network Protocol-an on-chain liquidity protocol that uses cross-chain interoperability to aggregate liquidity from cryptocurrency traders, holders, and blockchain ecosystem stakeholders, our users now have access to multiple decentralized exchanges. The exchange of digital funds takes place in an order book-less interface, providing a more natural way to swap cryptocurrency tokens instantly. To have a true 'Multi-DEX' going forward, we will include additional protocols to help realize more liquidity.
"Our mission is to provide decentralized and trustless access to financial services through a simple and seamless interface. The Kyber Protocol will give all Trust Wallet users more options to instantly trade their assets and tap into a large pool of ERC20 token liquidity. We are always looking ahead and will integrate more projects and protocols within our ecosystem, making crypto more accessible for our users in the process." says our Founder and CEO Viktor Radchenko
Trade On-the-Go
Last month, we announced native wallet support on Binance DEX, where you can access a decentralized digital asset exchange built on the Binance Chain with near-instant transaction finality. With Kyber Network Protocol, our users can now facilitate greater access to a central liquidity pool and instant settlement through an open architecture of Kyber Network.
Endless Possibilities
The new Multi-DEX experience opens endless new possibilities to the way we transact. Imagine you were standing at a coffee shop, and they accepted a different cryptocurrency to the one you had in your Trust Wallet; now, with this integration, you can pay for the coffee by instantly swapping your digital asset to the one accepted at the coffee shop. Also, you can trade your tokens to utilize them on dApps via our built-in DApp Browser
A Trusted Gateway to a Decentralized World
We pivoted from being just an Ethereum wallet to a multi cryptocurrency wallet with a focus on making access and usage of cryptocurrency much easier than before. Apart from being just a crypto wallet app, we also allow users to access hundreds of decentralized applications (dApps) and transact with different blockchains through an intuitive mobile interface with unmatched simplicity and user-friendliness. With this release, we are giving the freedom to choose how and where you trade. Access it on your mobile on the go or via desktop in the comfort of your home.